Snap pushes the link between AR and commerce forward
The company will be letting brands use its virtual try on technology on their own apps and websites.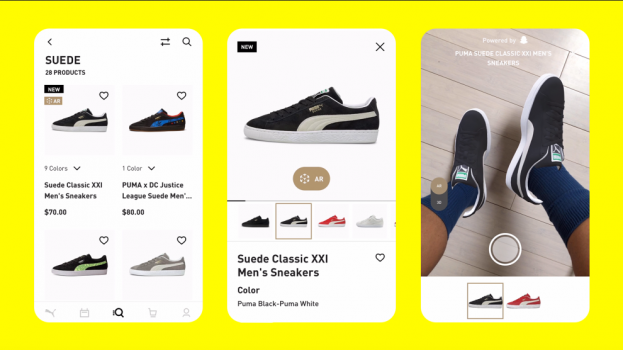 While much of the attention from Thursday's Snap Partner Summit may have been on Pixy, the company's new photo-taking drone, retailers and commerce-focused brands may be more interested in the fact that augmented reality features previously contained within Snapchat can now be used in their own shopping experiences.
Snap announced Camera Kit, a new software developer kit that will allow Snap's AR technology to be used on a retailer or brand's own website and apps, not just within Snapchat. Specifically, it is technology related to "try-on" experiences, which allow customers to virtually try on online fashion purchases using AR.
The company says the feature is currently operational within both iOS and Android apps, with website support coming in the near future. Puma is the first brand to sign on for the new feature, integrating Camera Kit into its app.
In its Q1 earnings last week, Snap execs frequently pointed to possibilities and engagement it was seeing in its AR business. The company said 250 million users engage with its lenses every day, on average, while engagement with community-created lenses has more than doubled year-over-year.
Looking specifically at AR with direct links to commerce, the company says 250 million users have used Shopping Lenses over 5 billion times since Jan. 2021. Snap has been making numerous improvements to create a more direct link between its AR features and commerce, such as the ability to link Lenses directly to a product catalogue to provide real-time pricing and product info updates. At last year's Partner Summit, it revealed new Scan functions, allowing users to take a photo of something with the Snapchat app and receive product recommendations.
The new Camera Kit is being support with updates to Snap's 3D assets manager, which will allow retailers to select different SKUs and create AR lenses for them "in seconds" through a web interface. This service, which uses AI to automatically turn existing product photography in AR assets, will be available at no extra cost.
In other areas of AR, Snap is also adding new templates for Shopping Lenses within its Lens Builder platform, making it easier to create commerce-connected Lenses on and off app without programming or AR experience. It will also launch a new in-app destination that makes it easier for users to discover "try on" lenses and content created using them. User profiles will also have a shopping section added to their profile, allowing them to keep track of products they've viewed or added to a shopping cart.