Upfronts 2022: Dramas fill up Bell Media's CTV and specialty acquisitions
The lineup includes a spin-off of The Rookie and new titles starring Amanda Warren, Jimmy Smits and Oscar winner Hilary Swank.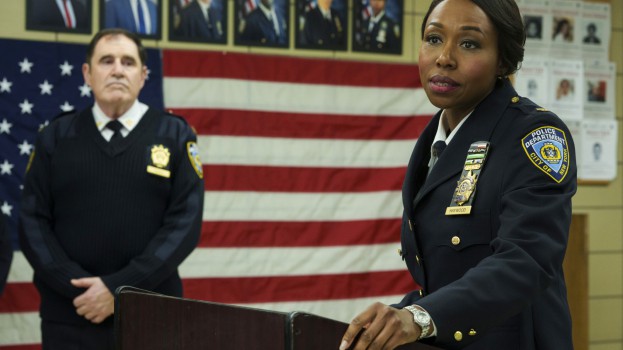 New titles starring Jimmy Smits, Niecy Nash-Betts and Hilary Swank headline Bell Media's latest acquisitions for its 2022/23 broadcast season.
The broadcaster has picked up a dozen titles for CTV and its CTV-branded specialty channels for its fall and mid-season schedules.
Part of the CTV fall lineup is CBS police drama East New York (Warner Bros. Television; pictured), which stars Amanda Warren (Dickinson) and Emmy-winning Smits (NYPD Blue) and follows a newly promoted police officer who meets resistance at her precinct when she deploys different strategies to help the local community.
The series is joined by ABC titles The Rookie: Feds, a spinoff of the Nathan Fillion-led series, starring Nash-Betts as the oldest rookie at the FBI academy; and Alaska, which is created by Oscar-winning filmmaker Tom McCarthy (Spotlight) and stars two-time Oscar winner Swank as a disgraced New York reporter who attempts to restart her personal and professional life in Anchorage, Alaska.
CTV has also acquired Jeopardy! spin-off Celebrity Jeopardy!, which airs this fall and sees celebrities competing for a charitable cause.
Mid-season titles acquired for CTV include CBS's True Lies, based on the James Cameron feature from the '90s, where a U.S. spy is found out by his wife and his agency recruits her to join covert operations; Fox's Alert, about a police officer who joins the missing persons unit when her son goes missing; and NBC's reboot of the sitcom Night Court, which stars former The Big Bang Theory actor Melissa Rauch who takes over her late father's legacy presiding over the night shift of a Manhattan arraignment court.
Acquisitions for CTV Sci-Fi Channel include The CW series The Winchesters, a spin-off of the long-running series Supernatural, and previously announced series The Ark.
Rounding out the specialty acquisitions is Spectrum original series Panhandle for CTV Drama Channel, where a notorious homebody is pulled into a crime investigation when he discovers of a dead body; and Jamie's One Pan Wonders for CTV Life Channel, hosted by celebrity chef Jamie Oliver, featuring easy-to-make meals.
Bell Media will announce its full 2022/23 slate at its Upfront on June 9.
Image courtesy of Bell Media