Upfronts 2022: Corus announces this year's slate of originals
The company is leaning on recognizable personalities for its lifestyle programming, while also bringing back many scripted favourites.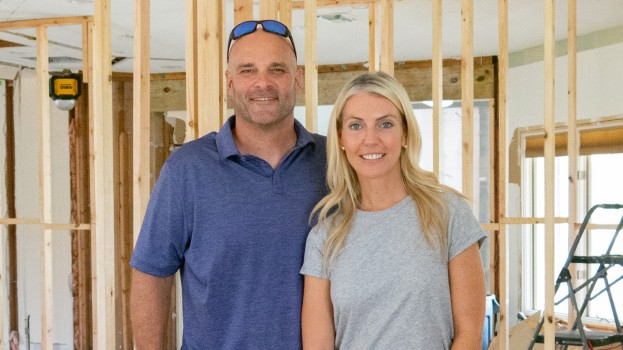 New and returning personalities are the cornerstone of nearly four dozen original productions Corus is bringing to its networks over the next year.
The company announced its original programming lineup ahead of its full Upfront presentation on June 8. Thursday's announcement touted 45 new and returning series, with 24 coming from its own Corus Studios.
Global
Coming to Corus' flagship terrestrial network is Robyn Hood, a new scripted series from Director X that is a modern retelling of the classic story. Greenlit back in January, casting for the show has yet to be announced, but production is set to begin this summer in Toronto and Hamilton.
Returning to Global's lineup are the second seasons of dramas Family Law (the top-rated Canadian series last fall) and Canada/Ireland co-production Departure.
Outside of scripted series, ET Canada will be returning to Global for its 18th season, with ET Canada Weekend returning for its second season.
History
Corus Studios will be producing a new unscripted series for History called Deadman's Curse, in which a team of explorers hunt for a legendary gold mine in British Columbia.
The network will also have a pair of new limited documentary series. True Story, made to recognize Canada's National Day of Truth and Reconciliation, offers a critical lens on the history of relationships between Indigenous people and settlers, showing both heartbreaking truths and inspiring hope. For Remembrance Day, Our War dives into lesser-known stories about individuals in WWI and WWII, such as one of Canada's first Black servicemen and a female intelligence officer stationed at Bletchley Park, through their descendants investigations into their pasts.
Returning unscripted series on History include season two of Backroad Truckers, season three of Big Timber, season two of Lost Car Rescue, season five of Rust Valley Restorers and season three of Salvage Kings.
HGTV
In addition to another season of Island of Bryan – the top-rated specialty series in Canada – host Bryan Baeumler will be getting another, currently untitled program that is in development and set to debut next year. Baeumler will also be teamed with Scott McGillivray in Renovation Resort, a previously announced competition series in which duos of contractors and designers will transform a waterfront cabin into a vacation rental for a chance to win a $100,000 prize. For McGillivray's part, he and Debra Salmoni will also be returning for fourth season of Scott's Vacation House Rules.
But in addition to new projects for some of its biggest stars, the network also has a number of new personalities set to debut. Sarah Richardson and husband Alexander Youner will be transforming a run-down B&B in Whistler into a luxury vacation rental in Sarah's Mountain Escape. This fall, Pamela Anderson will be renovating her grandmother's six-acre legacy property on Vancouver Island in Pamela's Garden of Eden. Luxury home designer Ali Budd will a creative team working on million-dollar projects in a show currently under the working title of Ali Budd.
HGTV also has new seasons for a number of returning unscripted shows: Gut Job, Hoarder House Flippers, Rock Solid Builds, Farmhouse Facelift, Making it Home with Kortney and Kenny and Property Brothers: Forever Home.
Food Network Canada
Food Network is bringing back new seasons of its most popular competition shows, including the tenth season of Top Chef Canada, the fourth season of Great Chocolate Showdown and the third season of The Big Bake, which will feature YouTube personality and cookbook author Danni Rose joining judges Brad Smith, Eddie Jackson and Ron Ben-Israel. Corus Studios will also be delivering previously-announced new episodes of Fire Masters and Big Food Bucket List.
W Network
Corus announced a pair of film projects for W. The 90-minute documentary Sex With Sue follows the sex educator and former W personality to dive into her legacy.
The previously-announced The Love Club is a series of four films that follow a different member of a friend group dealing with dating who promised call on one another to solve their romantic troubles. The first film is set to debut in winter 2023.
Adult Swim
Red Ketchup will become the second Canadian original to air on Adult Swim. Commissioned by French channel Télétoon la nuit, the show is based on the cult Quebec comic book series of the same name featuring a rogue FBI agent. The series will be on Télétoon la nuit and in English on Adult Swim in 2023.
Red Ketchup joins Psi Cops, a previously announced Canadian original that is set to debut on Adult Swim in 2023. The animated series follows an incompetent secret agency that investigates spirital and paranormal activity.
YTV
Premiering on YTV in 2023 is The Popularity Papers, a scripted young adult show based on the original book series by Amy Ignatow which tells the story of two friends who use social experiments to figure out how to become popular.
A new Nelvana project coming to YTV is Best & Bester. Set to premiere this fall, the series follows two siblings "obsessed with comparing the best things of all time" and transforming themselves into it. Another Nelvana project, Super Wish, will be returning to YTV for another season.
Also returning to YTV is after-school programming block The Zone, alongside The Zone Weekend and Big Fun Movies.
Teletoon
A number of Nelvana projects will be returning to Teletoon, including new seasons of Bakugan: Evolutions, Agent Binky: Pets of the Universe and Thomas & Friends: All Engines Go!. Teletoon will also be airing a new special titled Thomas & Friends: All Engines Go! Mystery at Lookout Mountain.