How brands are reaching new audiences by way of Twitch
BMO, Kraft Heinz, Taco Bell and Shaw have found ways to leverage the platform to its advantage.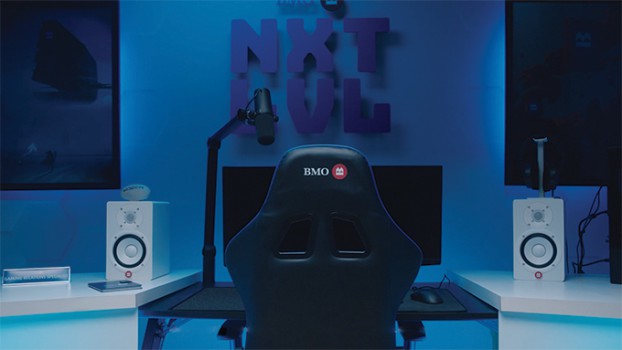 This story was originally published in the 2022 Summer issue of strategy magazine.
By Patti Summerfield 
As the shift from cable to streaming continues, advertisers are exploring other digital channels to reach consumers. One of those is Twitch. Once considered the territory of young gamers, the platform now attracts a wider tech-savvy demo of all ages and those with a higher-than-average household income.
Just in the last few months, big brands such as BMO, KD, Taco Bell and Shaw have staged campaigns on Twitch. BMO, in particular, has gone all-in with a dedicated Twitch channel called NXT LVL – a place for the bank to educate users about personal finances through live gaming. Personal banker Sean Frame was chosen to host the channel, taking on the title gaming relations specialist (GRS), where he helps gamers "level up in-game and IRL."
Maja Neable, CMO for banking, as well as the chief data and analytics officer at BMO, says the bank wanted to show users how to become an expert in managing finances just as they can learn how to become an expert in a game. Neable says Twitch enables it to connect with 17.5 million engaged viewers on a daily basis – an audience that consists of early adopters who like to be the first to try new products and services.
"Twitch isn't just a place where people play games, it goes far beyond that," says Neable. "The reality is that often the game being played isn't even that important. It's about the entertainment that comes through a streamer's personality, the engagement between the streamer and the live chat, and the various communities and sub-cultures that are naturally formed across streams."
Because Twitch is all about live-streaming content, BMO can address financial questions gamers may have in real-time, and in a way that feels authentic to the brand. "Our customers tell us that when they engage with our employees in our branches, they have a great experience. We found that this is a way to bring that humanity of BMO from our branches into the gaming space, so they can experience it in the channels where they are."
For BMO, the results of the Twitch channel have been better than anticipated. "We've become a part of gaming culture and reimagined where and how people engage with a bank," says Neable. "We reached over one million unique views across the first three streams [since its launch in June], placing us at the top-end of the industry benchmark."