Spotted! Pan Am targets travellers
Faux flight attendants infiltrate Canadian airports to create buzz about the CTV show.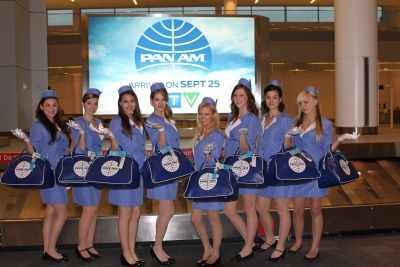 Travellers received a mid-20th century welcome from a team of smiley-faced Pan Am stewardesses as they walked through the terminals at Toronto, Vancouver and Montreal airports Friday morning.
The 1950's-inspired ambassadors were seen interacting with passengers at baggage carousels, handing out bags of pretzels, paper planes and providing details on CTV's new fall show.
The stunt was the second for the Bell Media-owned channel's promotional campaign for the show. In August and September, CTV took viewers to the skies with a 10×20-foot portable jetliner previewing clips of Pan Am as well as other new shows, including The X Factor, Whitney, Grimm and Once Upon A Time.
A solid reception was received during the course of the month in which the stunt took place, with more than 2,300 visitors and 388,785 impressions over the first five stops of the seven-city mall tour.
Rick Lewchuk, senior VP, Bell Media Agency, tells MiC the channel wanted to create something that would generate hype through word-of-mouth. With a show like Pan Am, it would be difficult not to take that extra step and create something fun, he says.
"When I saw the Pan Am screenings [at the upfronts] in May, it looked like a marketer's dream," he adds. "We get into the habit of using billboards, TV and radio promos, but there were so many ideas and ways that we could tie it into different things."
In addition to the experiential stunts, CTV opened a contest for Canadians to email written stories and relevant photographs of their past trips, with the most interesting memory posted to the CTV website.