Lay's lands Jets sponsorship
The PepsiCo brand is the official chip of the Winnipeg Jets and has launched a "Hometown Heroes" campaign.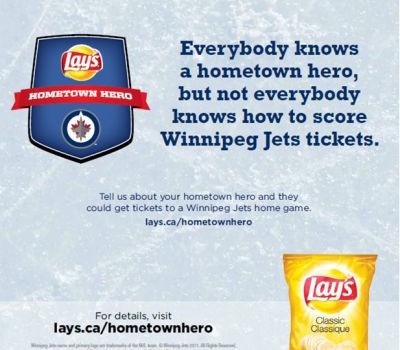 Back in business, the Winnipeg Jets have struck a five-year sponsorship deal with PepsiCo-owned Lay's.
To stir up excitement around the partnership, the potato chip brand has launched a campaign that aligns with its brand positioning, Jason McDonell, vice president of marketing, PepsiCo Foods Canada, tells MiC.
SDI Marketing linked the brand with the hockey team and assisted in creating a strong partnership, says McDonell, adding that BBDO Toronto worked on the creation of the campaign and OMD on the placement of newspaper and radio ads. Newspaper ads will run in the Winnipeg Free Press and radio spots will air on stations including Sports Radio 1290 AM, CKMM FM and CJKR FM.
As the hockey team's official snack provider, Lay's will have rink board signage as well as well as product vendors in Winnipeg stadiums, McDonell says.
In conjunction with the sponsorship, the brand has launched "Hometown Heroes," an online-focused campaign that invites Manitobans to submit a blurb based on an individual they believe has made a positive impact in their community. The promotion runs for one year and the person with the most votes will be awarded with tickets to a Winnipeg Jets home game as well as be featured in a video segment to be played on the Jumbotron at each hockey game.
"It's a testament to supporting local," McDonell says. "We're supporting the people that helped bring the Jets back to Winnipeg and we know that in these areas there is a tremendous amount of local pride."
McDonell believes that after a while, the campaign will start to promote itself as it reaches up to 15,000 in-stadium fans with its "Hometown Heroes" signage and weekly feature video of the chosen hero.