Future talk at Digital Media Summit
The industry panel discussed everything from why Napster worked to creating content for ever-fragmenting audiences at yesterday's event.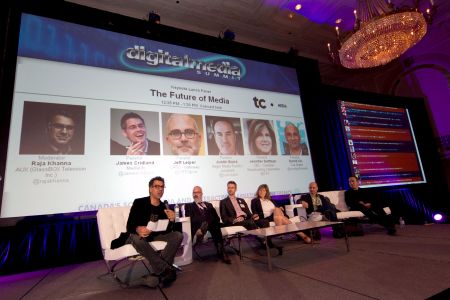 When a talk is titled "The Future of Media" you know there will be a wide array of content covered. Such was the case at yesterday's lunchtime panel session at the Digital Media Summit in Toronto.
Moderated by Raja Khanna, CEO, Glassbox Television, the panel featured James Cridland, radio futurologist/managing director, MediaUK; Jeff Leiper, director, strategic policy, CRTC; Justin Baird, innovationist, Aegis Media Pacific/Jumptank; Jennifer Dettman, head of factual entertainment, CBC; and David U.K., founder and CEO, Cue Digital Media.
Audience fragmentation was the jump-off point for the discussion, with Leiper saying smaller audiences and shrinking budgets mean content cuts at networks that can't justify making big-budget shows.
"Fragmentation in the TV industry means that networks aren't able to justify large budget programming," he said. "Subscription-supported channels are able to pay for better content."
Getting in on branded content, keeping  online clips short and creating a quality user experience were all tips to stay ahead in the media industry from the panel.
Cridland continually emphasized the importance of creating the best possible user experience, noting Napster had the popularity it did in part because of its ease of use.
"User experience is key," he said. "There is nothing exceptionally clever about the iPhone, it is the user experience that makes that product. If we as media people don't get the user experience right in the way people consume the media then we are screwed."
Another opportunity for growth was noted by U.K. who said Canada is far behind the US when it comes to branded content.
"We represent a lot of US partners, [like] Funny or Die and College Humour who get 70% of their ad dollars from branded content," he said. "And in Canada that isn't happening yet."
He also added content clips should be kept short to match attention spans.
"Canada isn't creating enough short-form content. It should be out there as fast as possible," he says. "That's the future. If we don't start producing short-form content in Canada we are going to be losing the eyeballs. I have posed this to Canadian broadcasters, and 99% of them are still in the world of long-form content."
The Digital Media Summit concludes today at the Fairmont Royal York Hotel in Toronto.
Photo: Slacker CMW