Scrabble unscramble and Facebook flipbooks: MiC's Global Tour
MiC talks to Darren Hardeman at Maxus Canada and Jeff Roach at Cossette about online stunts from countries including Russia and Dubai.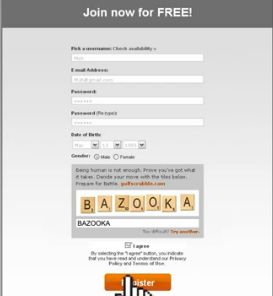 For this week's Global Tour, we compiled a list of online brand campaigns from Russia, Turkey and Dubai that pushed the norms of the digital space, such as reimagining captchas, likening blood donation to downloads and online Facebook flipbooks.
MiC spoke with Darren Hardeman, managing director, planning and digital, Maxus and Jeff Roach, group digital, director, Cossette Media, to get their thoughts on the campaign compilation and what they would do differently.
Dubai: Scrabble looks to "captcha" an audience
Having found that many Scrabble enthusiasts were in the dark when it came to awareness of its annual championship, the brand decided on a novel execution that eventually led to higher participation numbers than any other year before.
Scrabble located popular gaming sites and at the registration point, when users were asked to punch in their login details, the brand hijacked the "captcha" security feature and turned it into a word game. Instead of asking visitors to type the security word, letter-for-letter, Scrabble invited them to unscramble the word and once decoded, an advertisement for the championship was shown, directing users to its website to find out more.
Hardeman: This is the best one I've seen in a long time with regards to innovative placement. It's a great opportunity to engage and predispose their target to learn more about the championship. I don't think I would do anything else to this. This execution is really smart and it takes something that everyone has become accustomed to and actually made it fun and interactive, and served their purpose of making people want to learn more about the Scrabble tournament.
Roach: Another example of good media targeting tied together with a great creative idea leading to a successful campaign.  Whether you have a very niche or more mass target audience, a smart creative idea that allows user interest to be self selected combined with well-targeted media placements makes it hard for the campaign to fail.
Click here to read the international story.
Russia: Blood Transfusion Service downloads to donate
You'd never think it, but there is actually a similarity between donating blood and downloading multimedia.
When a person downloads a file from a torrent site, they receive it in segments from other members. Wanting to prove how this simple principle of sharing relates to blood donation, the Blood Transfusion Service in Russia created an advertising campaign that relied solely on torrent sites. The organization created a film about blood donation, along with a Hollywood-inspired trailer placed on popular film review websites, and allowed people to download the movie free-of-charge from torrent sites.
Hardeman: I thought this was really great, finding the similarities between people that are sharing and how the sharing works with donating blood is very well done. Obviously you're hitting people at a time when they're actually thinking about it and they're making that connection between the two, and that's why they saw an increase in people who actually want to donate.
Roach: While the thinking behind this campaign was well done, and it was well executed, I can't help but think it missed something as the results seem quite low. I think this is a campaign that had more thinking behind it than what the target audience was willing to give, as they likely would not take the time to make all the needed connections to see the value in the campaign execution.  They may have been better off with an urgency message to drive donations.
Click here to read the international story.
Turkey: Facebook flipping with Volkswagen
Volkswagen recently pushed the boundaries of social media, recreating the age-old method of flipping through images to simulate motion in a whole new way.
The brand devised an interactive Facebook flipbook whereby photos on its fan page could be scrolled through to reveal a never-ending ad for its Amarok vehicle. The images showed the car driving through a variety of terrain with the message that the Amarok will "Never stop… Unless you want it to."
Hardeman: It's definitely a way to get people to interact with your Facebook unit. It's a continuous loop that video would not be able to give, and I think it's great at merging the message and media and not just doing the status quo on their Facebook page.
But I think there are other things that could make it more interactive, so that when the user makes the vehicle stop [or stops scrolling through the images], they can have more engagement with the vehicle. And that can be through something that would allow them to get into the driver's seat, such as augmented reality.
Roach: The flipbook idea is far from new (with the first appearing in 1868 according to Wikipedia), but every time it is used, it's always intriguing. In this case I think it is an ingenious way of promoting the vehicle attributes in a (normally) static environment.  Some areas of the online space have fixed parameters in which to showcase content, but this can help with the creative process in finding new ways to use those limitations.
Click here to read the international story.