Sharing life moments with Canada Dry
The beverage brand is embracing digital with a contest that asks consumers to share their "Real Moments."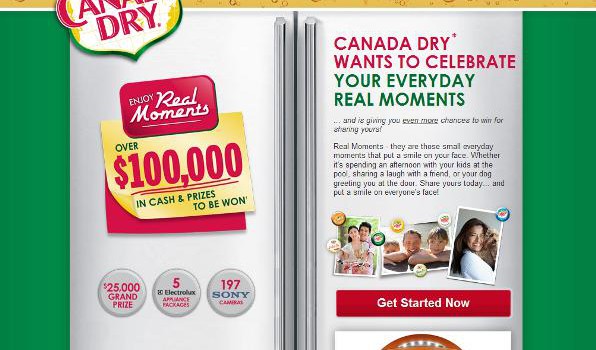 Canada Dry has launched a contest in partnership with ET Canada and Quebec-based MusiMax, asking consumers to share their favourite "Real Moments" for the chance to win prizes.
Digital and TV elements for the campaign were planned by Mindshare with creative developed by Toronto-based agency TraffikGroup. Promotions for the campaign include a 30-second promo spot featuring ET Canada host Rick Campanelli which will air on the show, as well as a 30-second spot featuring host Mike Gauthier on MusiMax, with additional support on both channels' online platforms.
Consumers are invited to submit pin codes, found on packs of specially-marked Canada Dry products, to the brand's website where they will be entered for the chance to win cash prizes, Electrolux kitchen appliances or a Sony digital camera. Bonus entries will be given to those who post, either on the website or the Canada Dry Facebook page, what they consider to be special moments in life – for example, "the first skate of the year on the canal with my son" as posted on the site by Ottawa resident, Winnie X.
Alison Bing, corporate affairs, Canada Dry Mott's, tells MiC that this is the first time that the brand has launched a "socially integrated program of this scale," with both a microsite and Facebook page housing the contest. "We've never run a contest in two places like this before," she says, adding that consumers will be interested in the contest because it "appeals to their emotions, but it also gives them incentives to [participate]."
"Canada Dry is an everyday beverage and what we loved about "Real Moments" is the idea of being able to reflect and take a moment for yourself," she adds.