Upfronts 2012: Helena Shelton on ABC's new offerings
From aliens who leak green goo, to Nashville singing stars, the PHD EVP gives MiC the good, the bad and the strange from day two at the upfronts.
Helena Shelton is EVP, trading and accountability at PHD and is attending the upfronts in New York City this week. Catch her blog posts all week on MiC as she dishes details on next season's new shows.
Tuesday morning and it was raining, but not inside Macy's. Inside Macy's it was all sunshine and shoes! I have to admit I did spend some time supporting the local economy. Afterwards a bunch of us met for some relaxed chit-chat and a few adult beverages in the hotel lobby bar before leaving for the ABC launch at the Avery Fisher Hall at 4 p.m.
The show began with the usual ratings, tweeting, and multiple-screen messages.  What everyone really wanted to hear was Jimmy Kimmel, but we had to wait, and so will you. The ABC message boiled down to "storytelling," ABC tells great stories. I thought that Geri Wang, president of sales, said a few smart things like: "in a world of fragmentation we offer you aggregation" and "one deal, one CPM."
The first new show we saw was 666 Park Avenue, a sexy thriller and dark drama, and the clip garnered some good applause. It felt a lot like American Horror Story, the basic premise being a young couple move into a Manhattan apartment where all kinds of twisted things happen. I loved it.
New for Tuesday night at 8:30 is How to Live with Your Parents For The Rest Of Your Life.  The show is about a single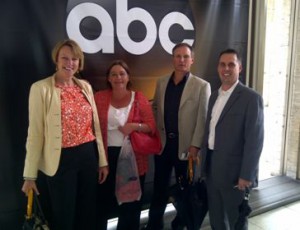 mom who has to move back to her parents' home as a result of the economy.  There was lots of "sex talk" in the clip. I did not find this show funny at all, I actually found the whole concept very disturbing. Right after it is another new comedy Family Tools. The show stars Kyle Bornheimer as a man who has to take over his father's handyman business, except this guy is the classic "un-handyman" This one got real laughs from the crowd.
On Wednesday nights after Modern Family is The Neighbors, this one was a head scratcher. The story is about a family that moves into new home only to find out all their neighbors are little green aliens. I found this show plain weird, especially the clip where you find out the aliens drip green stuff out of their ears when they cry (I am not kidding).
From aliens to Nashville, a musical drama about a country star (Connie  Britton) whose popularity is on the decline. The premise is how she deals with a younger up-and-coming star who is mowing her lawn in oh so many ways. The clip was excellent, this one looks really good despite the Neighbors lead-in.
And then the laughs really began with Jimmy Kimmel as he took shots at ABC bosses, ABC shows and the competition's shows.  The shots he took at the monkey from Animal Practice on NBC had people around me almost in tears. Some of the comedy writers for the new shows we saw should take a few lessons from Jimmy. He ended with a plea: "We know you have $9 billion to spend this week. So don't try to get all cheapo secret service with us. We want the money."
Back to the job of watching clips with the intense and well-shot drama Last Resort, I thought this was really good.  The premise is about the crew of a nuclear submarine who refuse orders to annihilate Pakistan and then go rogue against NATO.
Finally came Malibu Country starring Reba McEntire as a singer who moves to Malibu with her kids and mother after she finds out her husband cheated on her. This is one of those comedies that could have used some help from Jimmy.
Three mid-season shows were also presented. Mistresses is exactly what the title implies. Red Widow, a mob drama that the audience seemed to really like, and Zero Hour, an intriguing religious conspiracy theory drama.
All said and done, the show was over in less than an hour and a half! The audience left pretty pumped thanks to Jimmy Kimmel and the livelier presentation style of ABC brass.
The next network launch is CBS and according to Jimmy, "CBS will be number one among total viewers. And say what you want about their shows, they really do have their finger on the pulse of Americans with almost no pulse."
Photo: The PHD team taking in the ABC upfront in New York City.