Astral Mix choreographs with kids
The Ministere de l'Education in Quebec worked with the media co to promote an active lifestyle with the launch of a youth-targeted dance contest.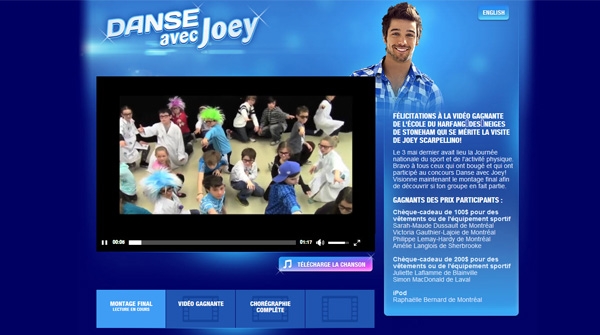 Concerned over the lack of active youth in Quebec, the Ministère de l'Éducation worked with Astral Mix, a division of Astral Media, and agency Bleublancrouge to encourage kids under the age of 18 to put on a show.
The chance to have French actor Joey Scarpellino visit their school was used as incentive to get groups of youth to film themselves mimicking a choreographed dance by reality music show MixMania's instructor, Davy Boivert.
While the "Danse avec Joey" contest appealed to those under the age of 18, the primary goal was to reach an underactive audience of young girls between the ages of 12 and 14, Annick St-Onge, group manager, Astral Mix, tells MiC.
St-Onge adds that the media co placed Bleublancrouge-created ads on VRAK TV, MusiquePlus and Teletoon inviting viewers to prepare for the upcoming choreographed dance contest, as well as mid-contest ads that invited youth to participate, and spots that followed with the announcement of the winner and an invitation for viewers to watch a mash-up of the dance videos on the contest website. Digital ads were also placed on the TV channel's websites.
The contest began on April 14 and ended on May 5, with the post-contest campaign running until June 23.
Overall, 205 videos were posted to the site, which received 100,000 views. The song used in the user-generated videos received 16,000 downloads from the site.
St-Onge says that the contest was a success for the Ministère de l'Éducation who was looking to get youth to adopt an exercise routine. She adds that young girls in particular wanted to participate in the contest because of the incentive to meet the host, who is popular among the age group in Quebec, as well as because of the growing trend in music and dance shows on TV.