Inserting viewers into TV shows at NXNEi
The Social TV panel session tackled the subject of monetizing second-screen experiences, as well as a prediction of Hunger Games-like interactivity.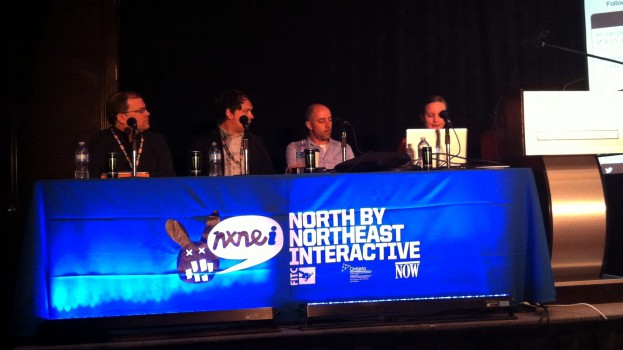 Are networks gunning for retention or promotion when it comes to social TV programs? Three producers, with transmedia ties to the CBC, sought out to answer that and other second-screen focused questions at the interactive portion of the NXNE festival.
"I don't think it is one or the other," said Paul McGrath, senior producer, unscripted, studio & live events at the CBC. He further refuted the idea of pigeon-holing social TV into either an engagement or promotional tactic by saying that it "all depends on what life cycle the show is in."
Audience retention via social engagement is important during the airing of a show and it can spill over for some time after, he says, where it can then be used as a promotional tool for the next cycle (episode/season) of the show.
McGrath also threw out a head-scratcher for attendees to think about with regards to the route that social integration might take.
He used adventure film Hunger Games and how the arena (in which the characters battle) can be altered and controlled by the viewers, as a prediction of future interactive TV. "In the next couple of years, I can see us creating new formats of television where the audiences are characters, and you can actually see them in the show."
The topic of distraction also came up during the panel session and had Fergus Heywood, senior producer, commissioned & scripted programming, CBC noting that audiences are already preoccupied, with only 29% of viewers not using their devices while watching the tube. "So if they're going to be distracted, I want them to be distracted by some element of my show."
On monetization of social TV: "Sometimes it's just about gaining intelligence," said J. Joly, CEO, founder of OverInteractive Media, who has done work for CBC's Cover Me Canada. "It's not pure cash flow. [But] you can become more agile as a producer, especially with an unscripted program where you can learn from one episode and see how one Sunday night can affect the next Sunday night."
Networks are still somewhat weary of social TV and the implications of failing, says Heywood.
However, the failures are soft and the worst that can happen is that the network doesn't make the massive impression it set out to, he says, adding the important thing is that they participate in breaking new ground.