Labatt Blue's patriotic augmented reality
Just in time for Canada Day, the beer brand has partnered with Metro to develop an AR ad that brings four iconic landscapes to life.
Canada Day is but a hop, skip and a jump away. And it's an occasion that Labatt Blue has chosen as an opportunity to get in full (three-dimensional) view of a younger demographic.
With the help of agency Publicis, the beer brand is saying "Cheers to Canada" in a regional augmented reality campaign which hit Metro newspapers in seven different cities yesterday and again today. The promotion brings four iconic Canadian landscapes to life (The Rockies, the Prairies, Niagara Falls and Peggy's Cove) when readers scan the Labatt Blue can printed in the daily. The same can be done in-store with a real can of the beer.
It's a big year for Canada, turning 145 years old, and the brand wanted to mark it with something that both casts a light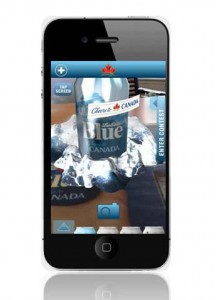 on its Canuck heritage, as well as reach an audience that Labatt Blue hasn't paid much attention to in the past.
"Traditionally, Blue is targeted to an older consumer, the 35-plus," Amy Rawlinson, marketing manager, Labatt Breweries of Canada, tells MiC. "But given that we're targeting Canadians of all ages, we layered in an element that would make the campaign a little bit more fun, interactive and engaging for a younger target."
And when looking for a brand in the Labatt portfolio to tie to the occasion, Rawlinson says that Blue was the obvious choice. "It's been some time since we supported Blue. We felt that it was time to go back to our roots and to look at a brand that has heritage in Canada," she adds.
Rawlinson explains that Labatt Breweries hasn't used the mobile technology in a campaign before and chose to do so because it is "tangible, something that's shareable and has a little talk factor."