Cadbury warns of an outbreak
The Kraft-owned brand is launching Halloween-themed Screme Eggs with online videos, commercials and OOH postings that talk of an impending "Goopocalypse."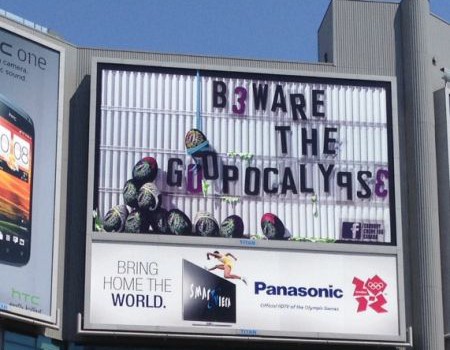 A "Goopocalypse" is imminent in the city of Toronto. This, according to Kraft-owned Cadbury, will occur when the "green goo" from its new Halloween-themed Screme Eggs takes over during the spooky holiday period. While there is still six weeks until the festive season, the brand is using anticipation of the fictional event to promote and drive sales of the newly-launched fall edition of the eggs.
Yonge-Dundas Square is the first to see warnings of the make-believe epidemic. Cadbury worked with Jungle Media on the placement of a large-scale billboard on the North-facing side of the square with creative by The Hive. The sign features the product and copy that reads "Beware the Goopocalypse" with a directive for consumers to visit the Cadbury Creme Egg Canada Facebook page.
Cadbury will be out again in September with more OOH signage including wild postings and billboards, and with the addition of a TV buy on specialty channels to promote the eggs. From late August until October, the brand will create and upload three episodic videos from "the Screme Egg-operated Goo News outlet" to its Facebook page, Jeremy Oxley, director, chocolate and seasonal, Cadbury Canada, tells MiC.
The videos are meant to give regular updates and explain to consumers what the fictional event is about, he says, adding that they will "[give a] nod to classic horror genre films" and "be released sequentially over the course of the campaign to coincide with takeovers happening online and in OOH."
"We're trying to reach young adults, so we're going where they go," he says of the use of online with social media, wild postings and the placement of TV spots as a part of its Halloween-focused specialty buy. There will also be in-store presence with posters and clings to promote the three different monster-themed product packages, he notes.