Spotted! Drambuie hypnotizes a new generation
Placing print ads, AR-enabled transit shelters spots and sampling in trendy Toronto locations is how the Bacardi-distributed brand is working to reach a younger target.
Drambuie is taking another shot (pun intended) at sprucing itself up for Gen Y drinkers. Because the audience the Bacardi-distributed brand is yearning to reach is more likely to purchase a bottle for their grandparents as a gift than buy one for themselves.
"But it's not your grandfather's drink anymore," Taryn Denman, brand manager, imports and agency brands, Bacardi Canada, tells MiC. "They've made several attempts at focusing on a younger consumer [aged 24 to 35]. And the way they've done it is by utilizing the history of the brand, which is interesting in its own right, but it's dated."
So this time the whiskey-based liquor decided to turn its marketing on its head, quite literally. It recently marked Astral OOH street furniture (with the help of agency Denneboom) on Toronto's Queen Street and Yonge-Dundas Square with transit shelters shrouded in hypnotic creative (by UK-based Sell! Sell!).
The purpose of the OOH ads is to jump out and grab the attention of consumers by showing them – when they download and use the new Ad-Dispatch and Astral OOH-created augmented reality application called IRIS – three-dimensional images of a Drambuie bottle turning upside down, with its contents dripping upwards.
"It's a twist on what you wouldn't expect," says Denman of the creative for the "Taste the Extraordinary" campaign. "The AR stuff is not ordinary in its own right. So it aligns with our messaging."
The campaign is highly targeted, she says. Before, the brand used conventional media like TV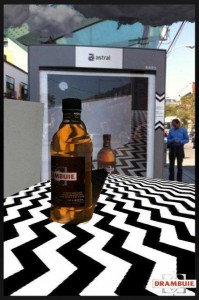 spots. Now it's utilizing new technology with the transit shelter activation, will place full-page ads in lifestyle and culture publications like The Grid, and has experiential plans to stop at Toronto bar lounges and sample its liquor in a cocktail format, says Denman.
"Drambuie is a liquor, however it's scotch whiskey based, so it's more of a male-skewing drink than the ordinary liquor and it has the potential of drinking on its own or mixing it," she notes.
"And what we're finding now is a surge in cocktails. Some call it the Mad Men effect," she says, explaining that to capture that audience the brand will also sponsor four bi-weekly articles on Toronto cocktail artists in The Grid.
The brand is also talking cocktails to Canadians on Facebook. It recently launched an application, created by Rocket XL, that educates users about the blend of its whiskey liquor and teaches them how to make Drambuie-based drinks. Denman says in the month it's been live, people spent averaged two-and-a-half minutes interacting with the moving imagery on the application.