Drunk mirrors and talking machines: MiC's Global Tour
PHD's Rob Young gives his opinion of the international executions that saw brands placing unusual objects in public spaces.
Brands that recently stepped out of the conventional box got MiC's vote for this week's Global Tour. We compiled three insightful executions that involved the implementation of unusual installations. These include a mirror that showed a delayed reflection to those who walked by, a vending machine that traded dares for a cup of coffee and shaky tables that illustrated the symptoms of a disease.
We asked Rob Young, senior VP, director of insights and analytics, PHD, to weigh-in on the international stunts.
Brazil: Allianz delays a response for a reaction
Getting home safely starts with a good look at yourself. Insurance company Allianz installed "drunken mirrors" in the bathrooms of bars and clubs to target potential drunk drivers before they set foot in a car. The installation looks like a regular bathroom mirror, but its reflection is delayed. The mirror illustrates how someone can have slower reflexes after just a few drinks.
Young: Ever since Narcissus spent his life gazing lovingly at his own reflection in a pond, the mirror has possessed attention-grabbing power. The delay in the mirror's reflection must have been very disconcerting for these inebriated Brazilian clubbers. Do you think our target group remembered this cut-through ambient execution the next morning? Neat (and probably really expensive) idea but perhaps the message was one drink too late in the delivery. Timing is everything, after all.
Click here to read the international story.
United Kingdom: Kenco Millicano gives coffee to those that do its bidding
Coffee company Kenco Millicano recently doled out free caffeinated drinks to passersby in Soho Square in Westminster on one condition: that they comply with commands given to them by a talking vending machine. The drink-dispensing machine bared the name "Kenneth" and asked consumers walking by to stop and give it a hug or a dance for a free cup of coffee.
Young: Ah… the old talking vending machine shtick. Except this one had some poor bugger cooped up inside cracking jokes and clearly annoying unsuspecting pedestrians. Cut-through ambient techniques are high impact, expensive and pay off only when successfully changing a brand's existing associations. One tough job. I didn't see or hear this coffee brand's new associations being communicated. Did you?
Click here to read the international story.
Australia: Shake it Up puts a wedge in Parkinson's disease
To raise awareness of Parkinson's disease, non-profit foundation Shake it Up let consumers experience it for themselves. The charity placed door-stopper-style wedges with the tagline "It's more than just the shakes" underneath table legs in restaurants and cafes in Sydney. The stunt resulted in wobbly tables and was meant to drive home just how off-kilter the world can seem to those suffering from the illness.
Young: Apparently there were two misconceptions about Parkinson's disease this ambient execution attempted to address: young people can be victimized and we are all impacted one way or another by the disease. As all types of people sit at tables and a table leg wedge mimics muscular dysfunction, this ambient execution hits the nail on the head. I worry however, that the wooden wedge failed to mention Parkinson's disease. Surely not! Perhaps a wedge-shaped booklet containing information and next step calls to action should have replaced the hunk of wood and its one liner.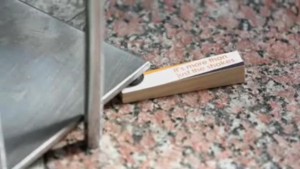 Click here to read the international story.