Dempster's gets down to earth
The Canada Bread-owned brand is casting a wide net with a campaign that takes a different approach to promoting its popular product.
We undoubtedly live in a generation of label readers educating themselves on what they're putting into their bodies. Dempster's is well aware of this, and for its fall campaign, it isn't feeding consumers talk of Canada's Food Guide (as done in the past), but showing its healthy ingredients in a more imaginative way.
This is the case in the Canada Bread-owned brand's latest "Bread Farmer" commercials, which were planned in-house with creative from its agency of record JWT. Because roughly 98% of Canadians eat bread, the conclusion was to remain impartial when it comes to targeting, Connie Morrison, senior vice president, marketing, Canada Bread Fresh Bakery, tells MiC.
"Since it's such a highly penetrated and high-frequency category, we decided on a broad media placement," she says. For example, the spots will be seen on conventional channels like CTV and Global, and some specialty, such as the Food Network and Showcase, she explains.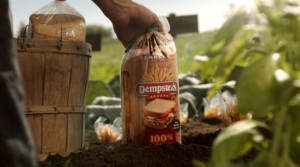 In the 30-second and 15-second commercials, a farmer is seen selecting slices of Dempster's whole wheat bread from a tree as well as pulling the bread out from the soil below. "Because there is so much noise in the media around fad diets we felt that we had to be a lot more overt and certainly a lot more intrusive in our messaging around the health benefits," says Morrison. "We felt it was important to give them a bit of new news around the products they know and love, but have maybe forgotten."