New York Ad Week: The big bang of tech and creativity is here
Mary Maddever takes in day one of presentations, from Microsoft Advertising to L'Oreal and Foursquare, and reports that the buzz is all about apps and targeted engagement.
Covering Ad Week in New York used to be easy. Go to the big keynotes, jot down the top five tips, top six lessons and "top 12 things you must do immediately when you go back to the office" from the industry's top creative, media, digital and brand gurus, and call it a week.
This year it's complex. Mirroring the options/dilemmas facing advertisers, kickoff session choices include Give to Get: Building a Brand Through Service Innovation, A World View on Media Usage, A Conversation with AOL's Tim Armstrong, or sessions on Smart TV and Mobile, among others. And so the day continues, ranging from culture to ROI to influencers to "Marketing is Dead."
One of the several conferences being held during Ad Week is IAB MIXX's expo, entitled "The Big Bang: When Technology and Creativity Collide." It serves as an accurate caption for the impact tech, arguably combined with social, has wrought on advertising. IAB president and CEO Randall Rothenberg kicked off proceedings by saying "This big bang has already occurred," and that they've come together to create campaigns "more alluring and compelling than anything that's come before."
Service and apps are a big part of the big bang.
Marc Speichert, CMO, L'Oreal USA, presenting learnings from a global ethnographic study by Tremor Video on how people use media, said that one significant shift is that while people didn't like Big Brother advertising, and the feeling of brands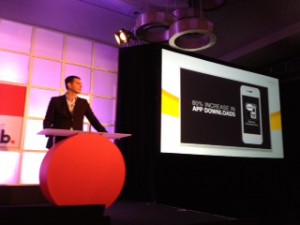 "knowing too much about me," they like Big Sister ads, communications that are based on "what I'm interested in, what I'm seeking out," on an opt-in discovery basis with opt-out choices. They found people are open to the notion of "come surprise me, based on what I'm interested in," and that a corollary of that is that in today's modern family, where everyone is wired to info 24/7, everyone is a powerful influencer. "If we continue to consider stereotypes as to who's buying what," says Speichert, "we're making a big mistake."
The study shows digital technology changes everything, so Speichert advocates, "reimagine what's possible."
Combining this with the persuasion of "let me tell you a story," and the perk-up-your-ear factor of hearing it from friends and family, Speichert points to some powerful results.
A Dermablend video of a guy completely covered in tattoos getting covered up had 15 million views, while he says Kiehl's is a good example of the big sister adverting principle in action; 73% made a purchase after signing up for Kiehl's alerts.
"People don't hate advertising," says Speichert, "they just want to pick and choose when they engage."
Another tech change Speichert addressed is the digitization of stores, and adding more story factor to the in-store environment, like the new Burberry flagship, as well as the online and offline experience becoming more seamless. He cited the use of New York City taxicabs as rolling, mobile stores during Fashion Week in New York as an example of reimagining the possibilities – consumers took pics, they shared, they downloaded apps, they purchased.
The takeaways were: unbox the meaning of TV, uncouple the power from devices to multiple platforms; create content; ensure scale with the right consumers – and perhaps most universally relevant – target people, not stereotypes.
Also at at the IAB confab, Dennis Crowley, co-founder of Foursquare, says they're seeing some new trends, and interestingly at the core, it's in line with Speichert's Big Sister findings. Crowley says the big shift in the Foursquare story from last year to this, is that there's a whole class of users who didn' t turn into active checker-inners, but were constantly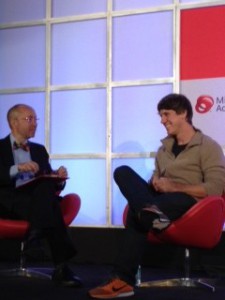 popping up to find specials and recommendations – as well as keep tabs on friends, an original M.O. of the three and a half-year-old app.
Crowley sees it as a new stage of social media: "Twitter used to be about the number of people sending tweets, but now it is about consuming that content."
With five million check-ins a day and over 25 million active users, he says what they're starting to see now is an amazing tool for local search, with over one million merchants involved and 2.5 billion check-ins overall.
Launching specials with merchants and inking a deal with Amex a few years ago to enable discounts directly on the credit card is one of several big drivers in their efforts to amass more users and reinterpret local search. "Every single intersection in New York has a fingerprint and it's always changing, and we're getting really good at sniffing it out," says Crowley. "We've always thought about getting people to turn up the dial on Foursquare during slow times to get some traffic."
More altruistically, Crowley says, "we want to make software that helps consumers experience the world," adding that the specials aren't seen as paid advertising by most users since it was always part of the app. "The thing that allows us to make money, they see that as the best part of app."
Crowley says that while they don't have standard ad models, "we're asking people to think about time, geography, proximity, relevance." Which may well be the new ad standards in this post Big Bang landscape.
The new Microsoft Windows 8 platform was purposefully designed for a new app-heavy type of ad experience, and the potential was demoed at a private invitation event on Day One of Ad Week, ahead of the Oct. 26 launch. The new live tile and swipe control interface will let you view email, social apps, stock info, weather apps and photos, all live, refreshing automatically. And it's geared to creating ads that are "beautiful, relevant and useful" according to Microsoft execs who say Windows 8′s design language, immersive experience and consistency of form factors across devices means you don't have to interrupt yourself anymore, with apps seamlessly tied together enabling multiple tasks just as your multi-tasking digital brain would like them to.
Bob Lord, global CEO, Razorfish, one of several agencies invited to collaborate on ad development during the beta phase, says it opens doors to advertisers creating different experiences: "it's about co-creating products together on behalf of your clients." He says that entails taking the idea of convergence of creativity, content, tech and media, and it will change how agency teams work – "brainstorming starts differently."
"Are we building an ad or an app? We have to do both going forward."