MiC's nice list: Best of 2012
The editorial team at MiC and strategy showcase their favourite campaigns from the last 12 months.
We see new work every day, but invariably some stands out from the pack. Check out the top picks from the editorial staff of Strategy and MiC from the past 12 months. We look forward to seeing what you have in store for 2013!
Emily Wexler, managing editor, strategy: Who doesn't like a little magic? Sometimes the best media executions are ones that simply put a smile on your face, so that's why I chose the work that Lg2 did for the Quebec City Magic Festival as my year-end pick.
Quebec is known for its candid camera-style comedy, so the agency took a page out of that book with a street stunt in September. It involved a series of video screens that recorded and played whatever was passing them by in real time. So when folks would walk by the screens, they were essentially seeing their reflections. However, two of those screens were pre-taped with actors who walked by mimicking their own movements in the video, making it look as though the regular passerby disappeared in those two screens. It's not the easiest execution to put into words, so watch the video in the link above to get a better idea.
Wild postings accompanying the stunt stood out in a sea of sameness thanks to a very simple idea – cut it in half, much like a magician does to his assistant.
This year's campaign was a follow-up to the festival's execution last year that placed a giant hat on top of a billboard and made it appear as though birds were coming out of it. We're not quite sure how it worked, nor did we dare ask (a magician doesn't reveal his tricks), but no pigeons were harmed in the making of that billboard…we hope.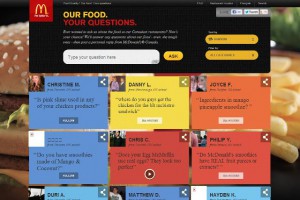 Grant Surridge, writer, strategy: I can still recall doing a double-take when I walked past one of McDonald's "Your Questions" campaign posters in my local subway station. I choose it as one of the year's best campaigns for nothing beyond its sheer audacity. In today's world of snarky, social media savvy Millennials this campaign could have turned out very badly, no matter how carefully controlled the roll-out. And likewise, whether you believe the answers were genuine or not, the campaign certainly achieved its goal of getting people talking. The associated YouTube videos racked up millions of views, while every major media outlet in the country reported on the mass campaign when it rolled out across all channels in the fall.
Canadians were the only ones allowed to submit questions to the campaign, but McDonald's used the content generated by the exercise and spread it globally through its social media channels, garnering something in the neigbourhood of six million shares around the world. And the best part of all of this was that the idea was conceived by the folks at Tribal DDB. Seeing a Canadian marketing idea used effectively by one of the world's biggest advertisers go viral around the globe, well that seems pretty good to me.
Jennifer Horn, special reports editor, strategy: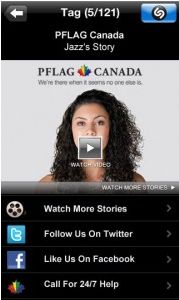 Distinguished entertainment factotum Steve Allen said it best: "Radio is the theater of the mind; television is the theater of the mindless." Certainly, the second act of PFLAG's "Stories" campaign is an apt reflection of Allen's sentiment, in which the non-profit used radio to create a theatrical scene in the listener's mind.
Back in the spring of this year, the organization supporting Parents, Families and Friends of Lesbians and Gays aired 60-second diary entries on ProudFM from men and women in the LGBT community. Before their confessions of hardship began, listeners were invited to track the audio through Shazam's smartphone application. Once the minute was up, the person's tale was abruptly cut off, and those who used the app could watch the conclusion of the anecdote through video on a mobile site.
When launched, Robin Heisey, CCO at Draftfcb (the agency behind the campaign) told MiC the "drama of the person speaking about intimate things on the radio and then cutting off in the middle, where you don't know what's happened and you can't see them, gives you more than what you can get from TV." Though, that isn't to say PFLAG didn't tap into a visual medium. Months prior to the radio leg of the campaign, the org launched a similar wave of ads, except in print and on television. And instead of the Shazam app, QR codes on the print ads were used to connect people to the site where they could finish hearing the heartrending stories.
The campaign received praise in Cannes, when it won a Bronze Lion for the spot, as well as from other international and national awards shows such as Tte One Show in New York and ADCC in Toronto.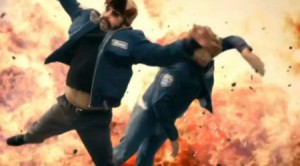 Jordan Twiss, staff writer, Media in Canada: Kokanee, affectionately known as Western Canada's "beer out here," and its long-time creative partner Grip, have built a reputation for coming up with clever campaigns to promote the glacier fresh brew.
Notable among these is the six-year Kokanee Ranger series, in which the Labatt brand depicted the story of the Kokanee Ranger and his beautiful sidekicks, the Glacier Girls, as they tried to defend the supply of the beer from the misunderstood Sasquatch.
In a bid to outdo itself, however, Kokanee teamed up with Alliance Films to create a Kokanee movie starring its cast of crazy characters. Not only that, they premiered it at the Whistler Film Festival.
Ambitious? Absolutely. But this is a perfect example of a brand that doesn't take itself too seriously continuing to do what it does best – entertain its loyal consumer base with over-the-top antics.
What's most impressive, though, is the extent to which the brand engaged its fan base. The new promotion started digitally at TheMovieOutHere.ca, where lovers of the beer were invited to submit audition videos for opportunities to have minor roles in the movie. Genius. After all, we all want to believe we have star potential (even more so after we get a few Kokanees in us).
To deepen the consumer engagement aspect, fans were urged to suggest props for the film and vote for their favourite bar to be featured as a filming location, while bands were offered the opportunity to submit songs for the soundtrack. Kokanee also hosted live casting and band audition events in bars in Vancouver, Calgary and Edmonton.
To top it all off, The Movie Out Here is slated to get a theatrical run in the New Year. The Kokanee Ranger would be proud.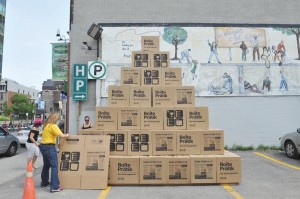 Mary Maddever, executive editor, strategy: They only let me pick one campaign, so it had to be the much-awarded Ikea's Moving Day. Why? Because it's so darn Canadian.
Sure, it's a brilliant example of ambient, and of creative and media – Leo Burnett and Jungle Media – playing nicely together, but it's also based on an insight unique to solving a local problem. Want Montrealers to visit your furniture and décor store? Help them on moving day.
Beyond strategic brilliance, the use of boxes as the creative and OOH media vehicle was also genius. The walls of boxes  – rarer than hen's teeth on the day Montreal moves en masse – with offers designed to make moving less hell, delivered both brand love and store traffic. And the quirky, fun factor fits with Ikea's global approach of doing things people genuinely appreciate. Kudos to Hilary Lloyd and Mathias Karlsson at Ikea, and to Judy John and the team at Leo and Arc – with a shout-out to the planners, Brent Nelson on the AOR strategic side and Jungle's Brooke Leland on the connection front.
Attitudinally it reminds me of a few Ikea campaigns I saw judging the Epica awards this year– definitely worth checking out if you haven't seen them:
For "The Home Showroom" from SFMB Norway, Ikea collaborated with people selling their homes to place the new Tidafors sofa in their private real estate ads (seen by everyone about to buy a house) and then used the brand's traditional ad space to get the home sellers messages (featuring the lovely new couch) out wider.
In "Rothenburg," from Wirz BBDO Switzerland, to tout a store opening, Ikea advertised "Private Showrooms Wanted," saying that they were out of room in the old store and needed to recruit help showcasing all the product until the new store opened. They used myriad strange small space ads (making the point that they were really out of room) when inviting people to set up showrooms in their homes (which they did).  While most of the viewing was virtual, there were even some limited "showroom hours" in private abodes.
Nice.
Megan Haynes, news editor, strategy: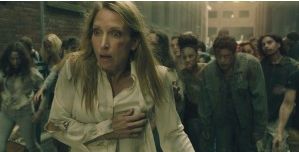 A lot of cool campaigns have floated across my desk this year, but I've got to say, the one that's made its mark is the Heart and Stroke's Undeading campaign. Working with Toronto-based Agency59, the campaign is best known for its unforgettable zombie apocalyptic Toronto, where a poor woman drops dead of a heart attack as a hoard of walkers approach her. Of course, it's really a lesson in how to do CPR as the undead make this woman undead, and was supported by a mass training event at Canada's Wonderland in October, with help from Toronto's local Zombie Walk.
Zombie culture is baffling right now, but this really is the right execution to jump on that bandwagon. CPR makes you undead. Zombies are undead. The connection is completely logical. The video, with its 880,000+ views, is arguably better than some zombie movies that are out there. Getting the youth-heavy Zombie Walk on board was a great way of spreading the message to a crowd that might have otherwise ignored it. And most importantly, it all worked: the mass CPR training broke a world record.

Val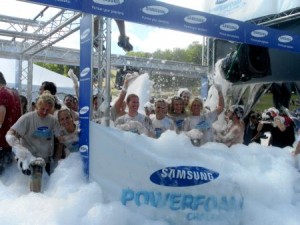 Maloney, associate editor, Media in Canada: My pick for 2012 saw Samsung Canada create a human-sized washing machine to clean up participants at the first-ever Toronto stop for the Tough Mudder obstacle course.
Created to showcase its PowerFoam technology, the group-sized washing machine featured media from Starcom and creative from Cheil. Activation at the event was managed by North Strategic and Match Marketing. The Samsung PowerFoam Challenge, the human-sized washer, was proposed as a way to showcase the technology (which injects air into soap similar to technology used in snow-making machines at ski resorts) in a different way, Andrew Barrett, VP marketing of Canada, Samsung Electronics, told MiC.
A great insight, but as someone who was there, my only advice for future activations would be to make the water just a touch warmer.