CTV's Phil King on staying on top in Canadian TV
"I know how competitive [Keith Pelley] is, and he's lit a fire under City and Rogers Media," King said of new-found battle in Canadian primetime.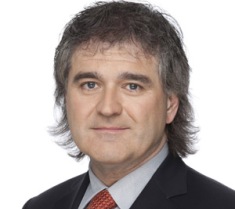 CTV programming boss Phil King had a good fall 2012 season as the number one Canadian TV network, with huge hits like The Big Bang Theory and Two and a Half Men.
And, to be sure, King knows network TV can ebb and flow, with a CBS or Fox at the top one year, only to find itself at the bottom the next year.
Just not in Canada, he adds.
"We're pretty confident at CTV that we're number one and will remain there for years," says King by phone from the Television Critics Association press tour in Pasadena as he discussed CTV's 2013 strategy this week.
"We have no intention of letting our leadership position slip in any way," King added.
Staying number one, he argued, means aggressively working to stay on top.
That's especially so when the competition has raised its game just as the network TV world is shrinking in the face of expanding digital technologies like online video, VOD and digital recorders.
That CTV's biggest competition during the fall 2012 season came from rival City, which doesn't surprise King.
He used to work for Keith Pelley, who moved over to Rogers Media.
"I know how competitive he (Pelley) is, and he's lit a fire under City and Rogers Media," King said.
He also knows the days are over when CTV and Global Television were the only major buyers of U.S. studio product each May at the Los Angeles Screenings.
The advantage then for two networks bulk-buying from four U.S. networks was each could come away with half of the content on offer, increasing the odds they'd land a hit series or two.
Now Rogers Media is in the game. "It's a little more challenging, for sure. That won't stop. And Global has had a decent year, as well," King observed.
To stay on top, CTV has a few major growth levers to pull to refresh a primetime schedule that includes popular shows like Grey's Anatomy, American Idol and the CSI franchise getting long in the tooth.
"It's no different than being a Stanley Cup team. If you go into the next season with the same players, some guys are getting older," King, a former TSN topper who likes to use sporting metaphors, explained.
For starters, there's breakout shows CTV is looking to maintain in the top-20 league table.
Last year, the top-rated network had two rookie performers from ABC, Once Upon a Time and the Ashley Judd-starrer Missing.
Unfortunately, ABC didn't renew Missing.
Another breakout hit for CTV is CW's Arrow, which launched on CTV Two before coming over to the main network.
This year, the biggest rookie contenders for CTV are mid-season replacements, most notably Fox's The Following and the Canadian cop drama Motive.
CTV even gave Motive the plum post-Super Bowl slot to give it the biggest chance to connect with fickle Canadian TV viewers.
After all, besides acquiring U.S. series from the major studios and praying for breakout hits, King insists CTV needs to create its own.
In fact, the CTV programming topper said he'd be disappointed if his network didn't have far more Canadian primetime content on its schedule in five years time.
"That's the goal. It's not easy. But you have to have a goal, or you don't get anywhere," King argued.
"So we want to get three or four big Canadian shows going at one time, not just one as in a Flashpoint," he added.
From Playback Daily