Spotted! Hot Wheels launches a Twitter vending machine
The Mattel brand partnered with Chevrolet to get small copies of its new Camaro into the hands of consumers at the Canadian International Auto Show.
Hot Wheels and Chevrolet Canada teamed up to get its newly launched Chevrolet Camaro Hot Wheels special edition car into the hands of consumers at the Canadian International Auto Show.
Working with TrojanOne, the brands placed a retrofitted vending machine on the show floor, which allowed passersby to tweet @HotwheelsCanada with the hashtag #ChevyCIAs when they were standing in front of the machine using geo-location to get their own pint-sized version of the car.
Called the Hot Wheels Camaro-matic, the vending machine was launched as a cost-effective way to get the cars to its target demo of "boys of all ages" for the Canadian Auto Show and young boys aged three to eight for Hot Wheels, Mark Stewart, director of digital services, TrojanOne, tells MiC.
"We wanted to do something that grabbed attention and almost runs itself," he says. "The immediate thought was a vending machine, but we thought that if we just handed out tokens…it would seem a little simple. So we figured out that a lot of people are walking around the Auto Show with mobile devices, checking in and tweeting and wanted to take advantage of that."
The Camaro-matic is an evolution of the Twitter-based activation the brand did last year, where it distributed a limited quantity of Hot Wheels cars through a photo contest. Stewart says it is similar to an execution last year from Bos Ice Tea in South Africa.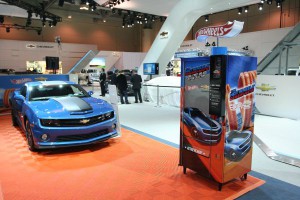 "The first thing I always do when I think of an idea is to check who else has done it," he says. "Because if I have thought of it, chances are someone else has as well."
Danielle Minard, manager of consumer engagement, TrojanOne, says response to the promotion at the car show (which ended on Sunday) was enthusiastic, with more than 1,800 cars being delivered through the vending machine over the run of the show. She adds that Hot Wheels owns the vending machine now, but no plans have been announced as to where it will pop up next.