Juice Mobile signs with Metro
The company has signed a deal to represent the Torstar paper's mobile inventory to advertisers.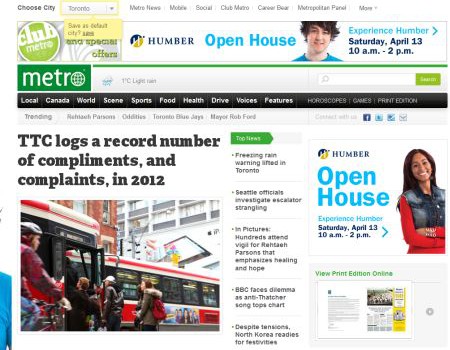 Mobile marketing and technology company Juice Mobile has signed a deal to work with Torstar's Metro English Canada sales team to represent the paper's entire mobile inventory to advertisers.
The media co's mobile sites offer standard banners and rich media advertising options, targeting "youthful, active, metropolitans" aged 25 to 54, according to a Juice Mobile representative.
Metro English Canada averaged 410,000 unique visitors a month, with 6.3 million monthly page views across the mobile versions of its Ottawa, London, Toronto, Hamilton, Kitchener-Waterloo, Windsor, Saskatoon, Winnipeg, Regina, Calgary, Edmonton, Victoria and Vancouver editions, according to Google Analytics and Flurry Reports data from January provided by Juice Mobile.
This recent announcement extends Juice Mobile's relationship with Metro English Canada, with the media co signing to the tech company's new ad platform Nectar earlier this year.