Canada in Cannes: Making experiential magic with Sid Lee and Cirque du Soleil
Sid Lee chairman Bertrand Cesvet previews some of the agency's presentation plans.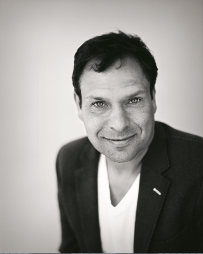 Creatives from around the world will be getting lots of Canadian knowledge this year at the Cannes Lions International Festival of Creativity, with presentations from McDonald's and DDB Canada, Cirque du Soleil and Sid Lee and Janet Kestin and Nancy Vonk from Swim all sharing their knowledge at the Palais in June.
In part two of our Canada in Cannes preview, MiC talks with Bertrand Cesvet, chairman, Sid Lee, who, along with Daniel Lamarre, president and CEO of Cirque du Soleil, will present "A Brave New World for Cirque du Soleil," on how when brands and technology collide, they can develop innovative consumer experiences.
What can people expect from your talk in Cannes?
Cesvet: The sound bite on the talk is pretty straightforward. Cirque du Soleil and Sid Lee are very close partners, with Cirque being an investor in the agency. When that deal happened a lot of people said 'Why is a circus getting together with an agency? What are you guys doing together?' So we are going to talk about how Sid Lee and Cirque du Soleil are coming together to build proprietary live entertainment properties for clients.
The idea is basically to leverage Cirque's core competencies in creating live experiences, touring and being one of the largest live entertainment companies in the world. When you break that into the world of activation and live events you get something extremely powerful. We are also going to talk about the reason why 'live' still matters. There is a lot of emphasis on digital in this day and age and people interacting with one another online but people still love to go and meet in rich, immersive, in-person moments. Our message is that you can go out there as a sponsor, which is great, but what is better is being the co-creator of an experience. A little bit like what Red Bull does.
Why is creating these sorts of experiences important now?
Cesvet: Because at the end of the day consumers are looking for authenticity, these immersive experiences are really what drive conversations and word of mouth. Brands are accustomed to saying things, but what do they actually do? Those are the kinds of experiences we want to create with clients. We will show how these projects come together and introduce a couple things we are working on with clients.
Apart from your presentation, what is the thing you are most looking forward to in Cannes?
Cesvet: Cannes is very interesting because it used to be you would go there, sit in the dark and watch advertising and then go party. Now it's coming to be about sharing ideas with smart people, and that's what we are looking for. It's one of these events that is a great place to share ideas.