Spotted! Hudson's Bay hits the open road
The retailer is sending a team on a cross-Canada tour in a branded RV and will launch a webseries to document their experiences.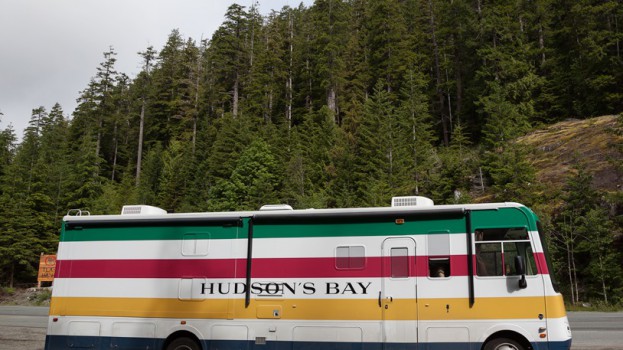 Hudson's Bay is showing off its adventurous side, sending a team of four explorers on a two-month cross-Canada tour as part of its newest campaign, "Project Adventure."
Planned and executed by the retailer's in-house team and targeted at adults aged 25 to 65, the initiative will see the team travel across the country decked out in branded gear and a branded RV, complete with the Bay's signature stripes.
Using Canada's landscape as a backdrop, the team will stop in 49 cities to engage in outdoor activities like snorkeling, surfing and sky diving, and will document their experiences through social media and in webisodes hosted on B-insider.com. Leveraging the Bay's Olympic partnership, the adventurers will also live a day in the life of an Olympian.
The Bay will also drive awareness of Project Adventure through additional activations at events throughout the journey, as well as through social media channels.
Marc Metrick, EVP, CMO, Hudson's Bay Company, tells MiC that Project Adventure is part of the company's long-term strategy to leverage its Canadian heritage, while positioning itself as a more modern and tech-savvy retailer and e-commerce hub.
He says this is the first time the brand has leveraged webisodes and social media, adding that it's also new for the brand to tell stories that are experiential as opposed to product-focused.
Metrick says that it's no longer enough for brands to rely on price point and features like fast or free shipping, which will no longer be brand differentiators in the near future.
Although the tour has already started, the webseries will launch on Canada Day.
Project Adventure will end Aug. 11 in Rocky Harbour, Nfld.