Nissan rolls out a pop-up dealership
The carmaker is bringing its "My Nissan My Choice Sales Event" to Ontario this weekend, allowing visitors to test-drive Nissan vehicles and win prizes.
Nissan Canada is gearing up to launch a pop-up dealership, targeted at anyone of legal driving age, at the Ontario Place grounds in Toronto from Aug. 22 to 25.
With media by OMD, experiential by Toronto-based GMR and creative by TBWA, the "My Nissan My Choice Sales Event" will see the brand bring together 26 of its dealers from across the province, and on-site customer reps who will offer visitors product demonstrations, as well as the opportunity to test-drive Nissan vehicles.
Additionally, visitors will have the option of being connected with a dealer of their choosing to purchase a vehicle at a later date, and will have the opportunity to spin to win, with prizes including $1,000 or $3,000 off a vehicle and a grand prize of $30,000 off.
To help support the event, Nissan has been running a campaign in the GTA for the past week that includes OOH, as well as newspaper inserts and ads in community dailies. There will also be on-site radio promotions by Q107 and CHUM FM, and the pop-up dealership will have visibility at the CNE.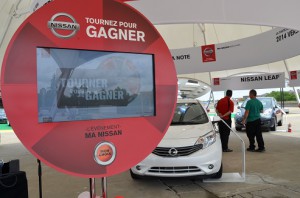 Michael Colleran, VP of sales, Nissan Canada, tells MiC that the event, which is a first for the carmaker in Ontario, is a way for Nissan to reach out to consumers it doesn't typically see and educate them about the brand and its newest vehicles in the market, including the new Sentra and the Versa Note.
He says that bringing Nissan dealers together to hold an event for consumers offers a forum where they can learn about and engage with Nissan, without being in the often pressure-filled sales environment.
Nissan recently hosted a similar event at the Olympic Stadium in Montreal. The Toronto event, however, will also see Nissan partner with NFL Canada, which will have representatives on-site offering additional giveaways.