Battle of the Blades returns
ING Direct has signed on as a sponsor of the rebooted series, which kicks off with live episodes this Sunday on the CBC.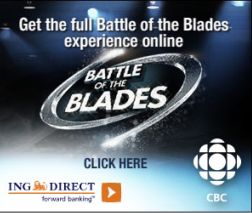 The CBC is bringing Battle of the Blades back, with live episodes of the reality skating show starting again this Sunday at 8 p.m.
Alan Dark, general manager of the CBC revenue group, tells MiC the show, which was temporarily taken off the air following budget cuts last spring has been retooled for its return, moving from its former two nights a week down to one live event on Sunday nights.
ING Direct has signed on as the major sponsor of the show, activating with "ING Direct Save a Skater." From the second to the last week of the show, viewers will be directed to vote to save a skating pair they think should not be eliminated through branded prompts from the sponsor.
Mark Nicholson, head of digital, creative and communications, ING Direct says the partnership came together through its media agency Initiative, which was looking for unique TV deals for the brand.
"We have done TV sponsorships in the past, but this is a unique one in terms of being integrated into the show itself," he says. "That is one of the reasons why we jumped on it."
Nicholson says the target for Battle of the Blades skews slightly female, as does the one for the bank,  making the deal a good fit.