Scotiabank Nuit Blanche reveals sponsor lineup
First-time sponsor Subaru Canada will have one of its vehicles turned into live art by a graffiti artist, while Nokia Products will sponsor performances by (X)Static Clown Factory (pictured).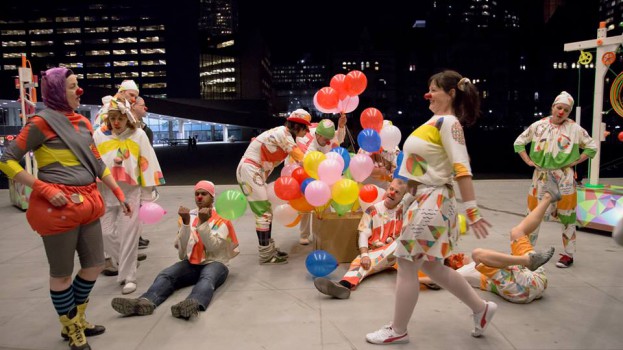 With Nuit Blanche set to take over Toronto this weekend, the City of Toronto is unveiling the lineup of sponsors that will be activating at the overnight art festival.
Returning for an eighth year as title sponsor of Nuit Blanche is Scotiabank, which will also activate as a sponsor of the Xiluodu Dam at Night installation. Located on Bay Street, the exhibition is a 3D audiovisual experience that will feature an excerpt from Jennifer Baichwal and Edward Burtynsky's documentary Watermark, which screened at TIFF.
Scotiabank is joined by a slate of first-time sponsors, including on-site partner Subaru Canada. As an on-site sponsor, Subaru will have vehicles on display at Nuit Blanche and has partnered with a graffiti artist from Montreal who will create a progressive art piece on a vehicle during the festival. Nokia Products, meanwhile, is a sponsor of live performances by the (X)Static Clown Factory and will build a platform that will allow the audiences to snap pictures of their experiences using the new Nokia Lumia 1020 and upload and share them through social media.
Also new to Nuit Blanche is Portuguese toilet paper brand Renova, which recently launched in Canada and has partnered with George Brown College. Working with five artists from the college, the brand will create a Renova Pavillion with art made from its colourful and scented toilet paper products.
Rounding out the lineup of first-time sponsors is H&M, which has partnered with two Toronto-based artists to create the [RE] Generator Project. The project will see the fashion retailer host an installation in the display window of its flagship store at Yonge and Dundas Streets using art created out of repurposed clothing donated to its I:Collect garment collecting program and projection mapping to create static and moving visuals. H&M will also invite passersby to upload their own images to be displayed.
Michael Brown, sponsorship manager, City of Toronto, Economic Development and Culture, tells MiC that brands like H&M and Nokia are good fits for Nuit Blanche because they have creativity at their core and target the same audience of adults aged 18 to 34.
While sponsorship opportunities are closed for 2013, Brown says they're already open for 2014 and 2015, adding that the window for 2014 will close in April.
Scotiabank Nuit Blanche takes place Oct. 5.