Postmedia partners with SendtoNews
The publisher will carry exclusive video content from leagues like the NFL and offer advertisers pre-roll and sponsorship opportunities packaged with traditional buys.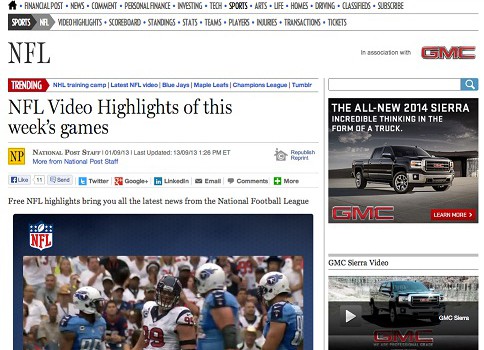 Postmedia has formed an exclusive partnership with Victoria BC-based digital sports news agency, SendtoNews to feature premium sports video content across its sites, including Nationalpost.com, Canada.com and Vancouversun.com.
The deal includes post-game coverage, highlights, interviews and news from the NFL, NASCAR, the PGA and the English Premier League, among others.
Brandon Grosvenor, SVP of sales, Postmedia, tells MiC that forming exclusive video partnerships such as this are a key part of Postmedia's digital strategy going forward, as advertisers increasingly seek out ad solutions based more on integration than on simple impressions.
He says growing Postmedia's stable of video content will not only enrich the user experience, but also drive stronger engagement with its online properties.
"Engagement is going to be the new currency which we're going to be trading upon," he says. "We want to offer advertisers the opportunity to cut past commodity-based campaigns and have multi-layered campaigns that engage our audiences across all of our platforms. Video is one of the pieces that will allow us to do that."
Grosvenor says the partnership with SendtoNews opens up opportunities for traditional pre-roll ads, in-video brand overlays, as well as sponsorship opportunities. Additionally, advertisers will be able to package video ad and sponsorship opportunities with Postmedia's traditional digital and print offerings and target based on market or sport.