Mazda racing game leads to test drives
The Mazda3 Fast Lane interactive in-cinema racing game leverages the audience's smartphones to create an experience that has delivered sales leads.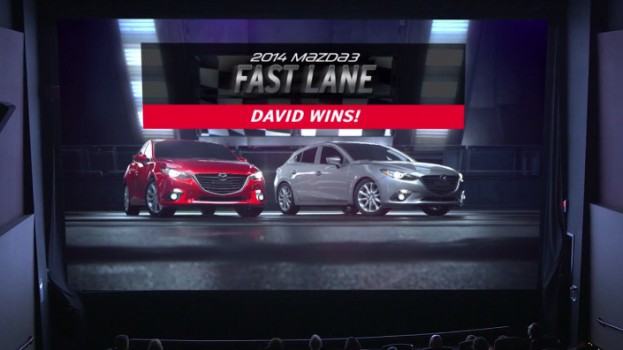 Mazda has captured the attention of Cineplex audiences this month with an interactive driving game that turns users' smartphones into steering wheels. Mazda3 Fast Lane runs during cinema pre-roll at Toronto and Vancouver theatres and pits movie-goers against each other in a test of their high speed driving skills. The game uses the accelerometer in the players' smartphones to measure how accurately they match up to the on-screen course, and a leaderboard lets them know how they're doing. Winners are awarded with Scene points and free concession items, and all players are prompted to book a test drive for a Mazda3.
With media by Excelerator and creative by JWT, the interactive experience is part of a broader campaign from Mazda launched earlier this month. Other partners on Fast Lane include interactive technology company TimePlay, animation studio Topix and Iamstatic.
"We really know our target is in cinema, but it's such a cluttered environment that we wanted to do something that would stand out and not just the traditional type of advertising." Angie Matchett, media director, team Mazda, tells MiC.
To date the execution, which runs until the end of November, has seen 172,158 plays and 6,156 test drive requests, about 4% of all players.
Mazda's target is typically higher income, higher educated and skews to the younger end of the 25 to 54 age bracket, Matchett says. They're youthful, tech savvy and looking for brands that are a cut above the rest, so an execution that felt different from others was important. "We're always trying to be first to market with new opportunities," adds Matchett.
She adds, the immersive environment in cinema and the engaging nature of the game presented an opportunity to drive potential customers to book a test drive with the push of a button. It was a strategy employed in previous out-of-home campaigns, but the cinema execution has proven to be more effective. "We were surprised to get more leads than we initially had thought," says Matchett.