Sunni's shining career
As the media maven prepares to begin a new chapter, we look back at how she reshaped the industry.
The longest summer job – ever – comes to an end with the retirement of Sunni Boot, CEO of ZenithOptimedia Canada. And what a job it turned out to be.
Little did Boot know when she walked through the doors of ad agency Ronalds-Reynolds as a teenager that she was walking into a career that would take her from a typist in the media department to an award-winning industry leader. Along the way she brought innovation and passion to everything she did for clients, racked up a number of industry firsts and won friends in all corners of the business.
"She has become so well known and admired in the industry that her name has become a brand. Everyone knows who Sunni is – Sunni with one name, like we know Madonna and Beyoncé. In her case it's just Sunni and that says it all," says John Cassaday, president and CEO of Corus Entertainment. "It is a testament to the values she has and her commitment to not just her company, but the industry as a whole."
As her career progressed, Boot moved from buyer/planner to broadcast supervisor to head of the media buying unit. In 1979, she was promoted to associate media director, and then to VP in 1980. When Ronalds-Reynolds was purchased by Foote, Cone & Belding in 1987, Boot was named VP, director of media services, and then in April 1990, she moved up to senior VP and national media director for the Canadian operation.
It was while heading up the media department at FCB Ronalds-Reynolds that Boot started group buying for clients, partnering them together for buys to avoid paying a premium for 15-second TV spots. The clients saved money and also weren't vulnerable to pre-emption. Out of that came the formation of a larger buying consortium that grouped existing FCB clients General Mills and Nestlé with new clients Coca-Cola and Cosmair, the precursor to L'Oréal.
Optimedia Canada was set up in 1992 as an independent media management company handling more than $140 million in media planning, research and placement for an impressive list of clients. The genesis of Optimedia itself served as a precursor to the agency's focus on innovation. "We formed the first Optimedia office in North America," Boot explains. "The US did not. In those days, I reported in to Foote, Cone & Belding in the U.S. Everybody said 'they'll never let you do that.' I explained it all to them and it took all of five seconds for them to say 'go ahead, do it.' That way we could be a test market for the U.S. I still have the scars to show for it."
In 1998, Optimedia became part of Publicis, and in 2000, ZenithOptimedia was born when Publicis Groupe bought Saatchi & Saatchi, the parent of Zenith. Currently, the agency has 152 staff in Toronto and Montreal and is number two in the Canadian market as per the latest RECMA data, which shows buying volume of $938 million in 2012 and impressive growth over the past five years.
Although she was accused by some of "empire building" at the time, for Boot, establishing a stand-alone media agency was the right thing to do for advertisers. This commitment to brands has earned Boot their loyalty, and even clients that moved on are still friends. But the quest to capitalize on all the new – often unproven – opportunities means it's never been a case of resting on the shop's laurels and relationships, and playing it safe.
Long-time collaboration breeds trust, and L'Oréal Canada's string of innovative media programs with Boot and the ZenithOptimedia team over the years is typical of the kinds of rewards that come from taking (well-calculated) risks. "I think Sunni's understanding of the needs of the brands, the way that she doesn't stop looking for opportunities and for different ways of fulfilling that objective, is what makes her unique," says Javier San Juan, CEO of L'Oréal Canada. She has done things with L'Oréal, from Project Runway to Luminato, that were firsts in Canada, where it was the first time product integration was done in a very modern way.
"Passion is part of her character but I think it is more than passion," he adds. "When you give Sunni the chance to do something new and to think out of the box, she gets engaged, her interest rises to a different level."
Another side of Boot is her drive to give back to the business she loves. She has been involved in every industry organization, mentored numerous young media stars, and helped establish programs that have made today's media world a much better place than the one she entered as a teen.
Julie Myers, president of Zenith Media, explains that Boot was instrumental in building a healthy, viable Canadian children's television market. At one time, programming for children was focused around the Christmas season rather than 52 weeks a year.
After the holiday period, broadcasters went back to airing low-rated, poorly-produced animated shows that had little appeal for advertisers. Marketers, particularly non-toy marketers, wanted good quality entertainment that would work with limited commercial messages. If that's what they wanted, Sunni would get it for them. That was in the mid-1970s.
"She brought in a little cartoon series, negotiated in partnership with Global Television, to see if it was a viable option for Canada. That takes courage. It was The Smurfs. That's her favourite. She always had this massive Papa Smurf at her desk. It was something she believed in and her clients needed it to support their child brands. It was driven by clients we still have today – Hasbro, General Mills, Nestlé. It was important to them and she found a solution working with her partners."
When Boot saw that there was a bit of a backlash about advertising to kids, she jumped in to help build and launch the Concerned Children's Advertisers program.
"She can solve just about anything," Myers adds. "That was a huge commitment for her personally, but again, it's not a paying job, it's a responsibility. For our agency, our contribution to help make CCA work was a lot. No one asked why we were doing this because it was conveyed that our job was client service – and that what they need and deserve we've got to give them. So let's figure it out."
Boot's commitment to the industry is the reason she is staying on in a corporate role for a while after retirement. She's on the Canadian and North American boards of the Alliance for Audited Media (AAM) and has projects she wants to complete.
"I've had such a wonderful run at it. I consider myself fortunate in the extreme," says Boot. "When I look back, the friends I've made, the people I've met, the things I've been able to do – I feel really lucky. I just hope I have given back."
Sunni and Debbie: ZO's dynamic duo
Sunni Boot and Debbie King worked together from 1974 to 2009 until King, who was ZenithOptimedia's executive VP and COO, retired. They still get together often over martinis or wine, unless of course King is off travelling in some exotic place.
The two of them worked together for so long that they seemed to work as one, often finishing each other's sentences. "Sunni always joked that people thought it was one person, someone called Sunni and Debbie," King says, "which was actually kind of true."
King has more than 35 years of great memories of working with Boot, from the giant Papa Smurf that was a fixture in Boot's office to the excitement of creating integrated programs like L'Oréal's Fashion Week sponsorship.
"She could always make it happen. Sunni was great in new business pitches because she can really command a room; she always had some great insight to open the meeting. Her trademark was her silver bangles. She used to start every new business pitch by peeling them off because they used to jingle. So that would signal the start of everything.
"But flying with Sunni was always a challenge – she had to leave a half-hour early to take the bangles off before security."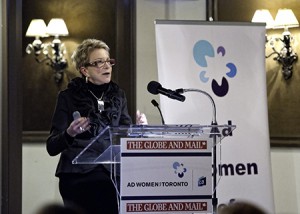 Sunni Boot: In her own words
What will you miss most about the business? At heart I'm a deal maker. I think what I'm going to miss most is the thrill of victory with my colleagues. I'm going to miss that [feeling after] we just did a great job for this client, sold this great plan, or did this great negotiation leading to a win-win. There's a big excitement to that and I've loved that from the beginning. I love all the people. I love the deal.
What will you miss least? Dealing with discrepancies. Dealing with the mundane. It's like a root canal. Nobody wakes up in the morning saying, 'great I'm going to deal with an administrative nightmare today.' I won't miss that.
What are the top three reasons media agencies are best poised to embrace the future of advertising? We have the best contacts for content. We are connected to the media. We know producers. I think media agencies are the best route to tease true insights out of data so that we can plan by behaviour. I think we're in the best position to understand competitive pricing and values.
Why do women dominate senior positions in media agencies? I think it's more a Canadian phenomenom rather than a global one. Women dominate in Canada but we don't necessarily as much in other countries, including the U.S. Everybody says it's because women are better with detail and numbers. I think we have a bit more patience. The young people I see in my office, my superstars, the guys are amazing. They're proactive. They understand. They're charming and they know how to deal with clients. I think we're going to see a bit of a change.
What is the best career advice you ever got (and from whom)? It was from Hank Karpus, who was the creative director when I started at Ronalds-Reynolds and then became president of FCB. There was this big new business pitch. He said 'Sunni, just keep going. Go in with the confidence of all the work you've done and nobody is going to know this better.' The other was my boss George Semple, who said 'always be prepared.' I give this advice too – you cannot be over-rehearsed, cannot be over-prepared.
What is your proudest accomplishment? I don't want to sound conceited by saying that there have been so many. I've had a long career. Starting the industry group Concerned Children's Advertisers, forming Optimedia, winning the ACA Gold Medal Award. That was an amazing thing to win because it came from clients.
Who was your role model? Not so much role models as mentors, and I think I had incredible mentors: Hank Karpus, George Semple and David Mintz, who was president of Global Television.
Do you have any regrets? No, not really. I might have wanted to do more in the content area, which is certainly an area of great interest. But, no real business regrets – and no real personal regrets either.
What's next? I really don't know. I've got some great anecdotes, so maybe I'll write a book about my life in media. The conceit would be that people would be interested in reading it. I've got family interested in starting something in art that I might help start up. I want to have the freedom to travel with my husband who retired a few years ago. I love art and architecture, I love design and I might do some work in that area.
Boot on media's ascendancy in the agency hierarchy
When asked how she sees media agencies further evolving, Boot envisions more than new skills. Ultimately, a new agency structure is required, she says, with media as the ringmaster.
"It's always been about content and it's going to be even more about content, and it's going to be customized. Data will inform the content. Today you're no longer the creative director, you are the chief creative officer, chief activation officer, and now you're going to need to have a chief data officer.
"It's an exciting time for young people just getting into the business and they will likely have the skills needed for the new data-driven business. If you think about how we go into programmatic buying and algorithms, it's all science. You need to understand the data and find a way to use it.
"The one beauty of data is that if done right, it brings everything together so we're not in silos. That is going to be a unifying force in the industry.
"Making sure that the same message is carried across platforms and delivered in the form appropriate to the platform can't be done in isolation. I think over the next couple of years we're going to see agencies start getting together again, forming the generalist who knows where to get all the special services. It's like in medicine, where somebody has to be the GP who knows how to direct you to the cardiac surgeon. Somebody needs to be the ringmaster.
"I think the media discipline is probably the best one to be that generalist, to rally the promotion companies, the digital companies and the creative companies. We probably have a greater understanding of the consumer habits than any of the other disciplines. We understand the platforms. We understand competitive pricing. Nobody else does.
"If you were to speak to Frank Palmer, he'd say 'oh baloney, it's us.' But I sincerely believe it should be the media agency. It's not out of conceit that I say that. I've believed it all my life."
This article also appears in the December/January issue of strategy magazine.