TunedIn aims to connect social and TV this Thursday
Details on the experimental app, which aims to connect social media activity to TV across Canada's major broadcasters later this week.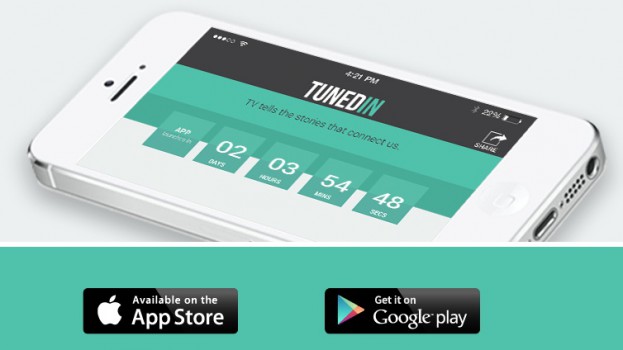 You've likely heard of TunedIn. The ads have been airing for weeks on Canadian television: Download the TunedIn app, watch TV at 8:58 p.m. on Thursday, Feb. 6 and you could be on TV.
But what is it?
In short, we don't know – and Brett Channer, president, chief creative director, Red Lion, the agency behind the spots, isn't telling.
"It is definitely an app that has the recording ability, for those individuals who choose to use it, to use what they've supplied as content for a celebration on Canadian television," he hints, adding that it's an experiment in which all the major English Canadian broadcasters are participating.
Channer says the endeavour sprung from a statistic provided by Twitter. According to the social media platform, 70% of all dialogue created on Twitter is in some way shape or form spurred from something that originated on television, whether it's commentary on the news, entertainment or sports. "That's when we realized there really is a correlation between the way television stimulates social internet conversation and in return, that stimulates viewership or at least a conversation around the content."
He says TunedIn is a mechanism that will bring transparency to what some see as two divided worlds – television and social media – and show they are interchangeable. "The consumer doesn't see them as divided, they see them as a two-screen world," he says. "What we're doing is mirroring how the consumer is currently behaving and providing the ability to play between the two. Now instead of (the consumer activity) all going on the social side, we're bringing that now onto the television side."
The activation won't be on every channel on the dial, but rather a widely representative sample of English Canadian broadcasters, Channer explains. He says the four major players – CBC, Rogers, Bell and Shaw – have all bought in to the concept. "I think it's pretty inspirational for the broadcasters to give it a try," he says. "Here they are showing each other's logos and each other's content on their channels."
Thursday, Feb. 6 was the date chosen for the event because it is a high viewership night, both during the week and on the calendar year, Channer says. The "sweet spot" between the Super Bowl and the Olympics is ideal, he says, because TV viewership is high this time of year, but it won't interfere too much with the main events.
Though he won't yet reveal how many people have downloaded the app, Channer doesn't expect huge numbers out of the gate, but anticipates more people will join in after the first activation. Participation data and other results should be available within 24 hours of the event, he says. He also says he'll reveal exactly who is putting up the cash for the ad spots after the launch.
Whether or not this is a one-time stunt or an ongoing initiative will be determined by response, says Channer. "We're going to put this in consumers' hands and let them tell us if this is something they want to use, or if it is a gimmick and they don't care," he says.
Will there be the opportunity for brands to get involved? "If consumers react to this in the way that so far the numbers suggest that they are going to, then that becomes a mechanism that would be available for anyone that wants to participate in it," he adds.