Sochi Paralympic Games coverage announced
The Canadian Paralympic Committee Broadcast Consortium lead by CBC will broadcast more than 90 hours of TV coverage and 250 hours online.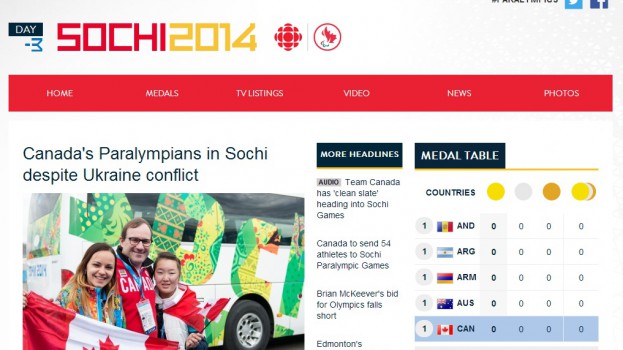 While the Government of Canada has cancelled all official participation in the Sochi Paralympic Games as a result of Russian military aggression in Ukraine, Canadian athletes are still expected to arrive in Sochi this week for the sporting event and CBC still expects to broadcast them.
The CBC-lead Canadian Paralympic Committee Broadcast Consortium released its coverage plans yesterday. The group, which includes Sportsnet, Accessible Media (AMI), Yahoo Sports Canada and SendtoNews, will provide more than 90 hours of fully accessible TV broadcasts and over 250 hours of online coverage from the Opening Ceremony on Friday March 7 at 2 p.m. ET to the Closing Ceremony on Sunday March 16 at 1 p.m. ET.
In addition to the telecasts, CBC will stream four live feeds of the alpine, nordic, sledge hockey and curling venues with English commentary. Rogers and Telus Optik TV subscribers will have access to on-demand content through Rogers On Demand, Rogers Anyplace TV and the Optik On The Go app. AMI will provide described video for all Paralympic TV coverage in collaboration with Descriptive Video Works. Full session live streams and highlights will be available through Yahoo Sports.
Air Canada, Canadian Tire, CIBC and Petro-Canada have partnered with CBC to sponsor the broadcasts.
As for a potential cancellation due to geopolitical strife, a CBC spokesperson says that a contingency plan is in place and the situation is being monitored closely.