Montreal's Rouge fm and Virgin Radio 96 share McCafe deliveries
Winners get to determine the next day's recipient of a delivery of McCafe coffee, muffins and cookies through social media sharing.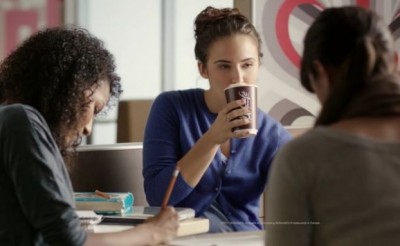 Two Montreal radio stations – 107.3 Rouge fm and Virgin Radio 96 – figure you deserve a McCafé break today.
With a campaign by Bell Media Mix and Montreal's Touche! OMD, McDonald's McCafé will distribute coffee, muffins and cookies to Montreal workplaces through July 19.
Those listeners who register on 107.3 Rouge fm's website will be eligible for a surprise visit from the station's FM team during their Monday coffee break. An on-air radio host will also be calling the winning office, who will determine who will receive the next day's delivery, with Friday's winners assigning Saturday's coffee break.
From June 23 through July 11, Virgin Radio 96 also fits into the mix, inviting listeners to share selfies with colleagues on social networks to show how their McCafé brightens their day, using #vrmccafé. The following morning, the Virgin Radio Entourage will visit the winner's workplace, and allow them to choose the next day's recipient of coffee, muffins and cookies.
The campaign is a spin-off from an earlier TV launch that was held from April 28 to May 18 on CTV Montréal that featured TV/radio hosts Chantal Desjardins and Mosé Perisco enjoying their own McCafé coffee break with employees from various businesses, punctuated by 15-second spots inviting listeners and viewers to register for the deliveries, and 15-second capsules of McCafé treats going to the offices of Concordia University and Montréal Children's Hospital.
Ads also aired on Canal Vie, Canal D, Ztélé and Corus Media's Séries+, with further promos and live mentions aired by participating stations and on the NRJ Network.
The radio campaign will run sporadically throughout the summer and September.