Spotted! Visa's infinite social push at TIFF
The credit card co has launched an interactive storytelling experience, using Morgan Freeman's iconic voice to help film fans share the glamour of their Hollywood North experience.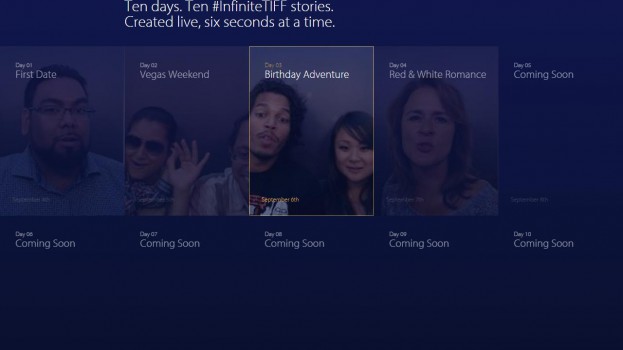 Visa is trying to help festival-goers who want to be part of TIFF with the Infinite Story Booth, part of the company's slate of activations at this year's festival.
The booth is located at the corner of King and Simcoe Streets. Starting from a story suggestion – narrated by Morgan Freeman, naturally – festival-goers and movie stars alike can drop in to tell the next part of a story in a six-second video clip that is immediately uploaded to a dedicated website and built upon throughout the night by each consecutive user. On the first night of the activation, more than 70 people contributed to the story. A different story is built by passersby each day, under themes like first date, Vegas weekend and birthday adventure.
Helena Tigert, senior director of marketing at Visa, tells MiC that the video booth is the kind of tech-based activation that motivates participants to share through social media, by both creating an experience that is only available at the festival and making sharing easier with a direct link to the website.
Visa's slate of activations at this year's festival are promoting the Infinite line of credit cards, which are targeted to a more affluent customer base with a minimum household income of $100,000 a year. Tigert says that TIFF is an event that is full of the kind of experiences that base is eager to share online, be it celebrity interactions, red carpet sightings, innovative tech-based activations or VIP lounge experiences.
"We've seen a very strong overlap between our Infinite cardholders and engagement in social media," Tigert says. "The affluent audience as a whole is very engaged in social, especially when it's TIFF and they have great stories that they want to share."
During TIFF, Visa is also sponsoring the Visa Screening Room at the Elgin Theatre, and fans can ask questions during Q&A events hosted there through Twitter using #InfiniteTIFF. The Elgin Theatre also contains the new Infinite and Infinite Privilege private lounges, which are exclusive to cardholders and come with reserved seating at certain screenings. The lounges also house a Twitter Mirror, which allows users to take and customize photos before sharing it through Visa's account.
Also at King and Simcoe, the company has set up a photo wall of a Toronto skyline, shots from which will be projected onto a giant LED screen with a short story about the subject's TIFF experience that can be sent to them for sharing on social media.
Visa worked with OMD and BBDO + Proximity for the activations. Jam3 provided the tech for the Infinite Story Booth.
Visa has been sponsoring TIFF for 18 years and became a major sponsor in 2012. Tigert says the company's spending on TIFF this year is consistent with years past, but that they feel they've been able to provide a more immersive experience that focuses on the festival-goer instead of the company in order to encourage more of an earned social reach.