NBC renewals offer sneak peek at fall skeds
CTV and Global each have multiple returning dramas, thanks to NBC bringing back shows like The Blacklist (pictured) for another season.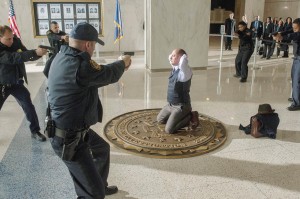 Good news for Canadian broadcasters and advertisers this week as U.S. network renewals will see several strong performers back in action next fall.
NBC made several announcements over the course of the week, revealing new season pickups for The Blacklist, Chicago PD, Chicago Fire, Law and Order: SVU and Grimm.
Two Canadian nets stand to benefit from returning programming: The Blacklist, Chicago Fire and Chicago PD on Global, and Grimm and Law and Order: SVU on CTV.
The strongest performer is The Blacklist, which airs Thursday nights at 9 p.m., and earned an average audience of more than two million for its fall season on Global.
Chicago Fire airs Tuesday nights at 10 p.m. on Global, and averaged just over 1.6 million viewers last fall.
Wednesday is the home for Chicago PD, which brought in an average audience of 848,000 viewers last fall on Global in the 9 p.m. timeslot, going head to head with CTV Two's Law and Order: SVU and its average audience of 1.2 million. Next fall will be the show's 17th season.
The main CTV net gets another crack at Grimm, which airs Fridays at 10  p.m. and brought in an average audience of 1.2 million last fall.