Do foodies like couture?
Metro is aiming for its "audience of tomorrow" through a multi-platform series with Flare.
Food and fashion might not be the most obvious connection, but Nancy Modrcin, senior director of marketing, Metro, says if you take a scroll through Instagram or Pinterest, the two are being linked everywhere through photography these days.
That's one of the reasons the grocer has signed a cross-platform deal with Rogers Media's Flare magazine, launching a series called "Cooking with Flare in Partnership with Metro."
Lead by the magazine's content team, the idea for the series started when Modrcin got talking with Flare's editor-in-chief Cameron Williamson, over dinner last year. The partnership was negotiated by Metro's public relations agency A&C, with creative for the spots developed by Publicis in partnership with Flare's editorial team.
The six-issue editorial series starts with a recipe from local Toronto designers Sid Neigum and Chloé Gordon in the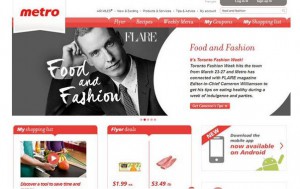 May issue. Each column will be paired with a 90-second video that will have the magazine's editors talk about food and fashion while cooking with the designers. Both the written articles and the videos will be posted on a new food section of Flare.com that goes live on April 2.
Content, like a Q&A from Williamson talking about how to eat healthy during fashion week, will also be appearing on Metro.ca.
Modrcin says the partnership aims to reach a slightly younger demo for Metro, because Flare readers largely fall within the 18-to-49 year-old demo, and the grocer's current customer base is between the ages of 35 and 49.
In addition to working with Flare, Metro is furthering its fashion connection, by signing on as the grocery sponsor of this week's World MasterCard Fashion Week in Toronto.