The Globe means business this spring
Publisher and CEO Phillip Crawley on how its new iOS app will be different from La Presse+, and what's changing in the Report on Business section.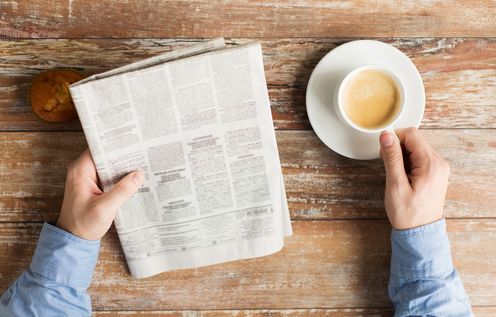 The Globe and Mail is rolling out a slate of updates to its platforms this spring, led by updates to its business and investment content.
Phillip Crawley, publisher and CEO, the Globe and Mail, says the media company's Report on Business section has increasingly become the main point-of-differentiation and driver of digital subscriptions to the Globe Unlimited, as well as to its five and six-day print subscriptions.
The company has announced a revamp of Report on Business will be coming to market in print beginning May 7, timed with a relaunch of its iPad and iPhone app later in May, pending Apple's approval. It also recently announced the launch of an app for the Apple Watch, which will go live next week.
Crawley says the new iPad and iPhone app will be differentiated from the popular French app La Presse+ because it will have three versions that roll out during the day, one in the morning, one at lunch and one in the evening that features more long-form content to align with reader habits.
The push on the Globe's paid and digital content comes following the recent removal of the paywall from the Toronto Star, which is launching an iPad edition with La Presse later this year.
Currently the Globe and Mail has 120,000 subscribers to its Globe Unlimited paywall program, with 50,000 of those being digital-only. The cost of a Globe Unlimited monthly subscription recently rose from $19.99 per month to $23.99 per month, alongside increases to all print subscription prices.
The Globe and Mail's iOS app currently has 300,000 monthly active users, a figure Crawley expects to increase following the relaunch.
""Clearly we expect the new app to grow that number aggressively…both volume and frequency of visits," he said. "It is designed to increase engagement."
The Globe has added 30 people to the Report on Business section in order to increase investigative reporting, coverage of key market drivers, comment and analysis and tailored wealth management with Globe Investor. The digital version will also include more infographics and graphs when it goes live.
Advertising opportunities in Report on Business are expanding to include native and contextual ad options, allowing clients to place ads that are adjacent to relevant content in the section.
A $2 million marketing campaign centred around the tagline "Powering Canada's Business" will be launching the revamped Report on Business section in May, and again in the fall. Media for the campaign is by Gaggi Media, creative from Naked Creative and public relations from Environics Communications.
The new iPad and iPhone app's launch has four launch sponsorship spots, the first two have been sold to the Bank of Montreal and Air Canada.
Image courtesy of Shutterstock