Pattison Onestop launches Engage
Merging a little old with the new, the OOH company's new product promotes interactivity between phones and ad boards.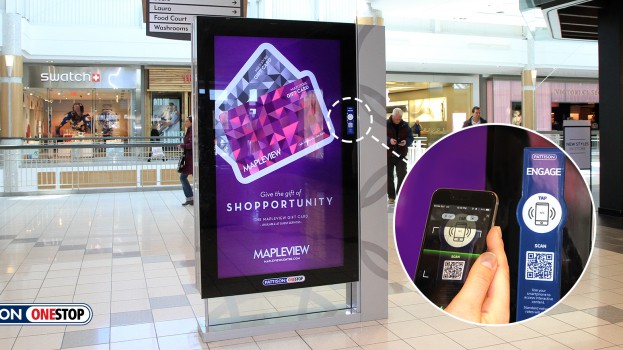 With a view to offering a deeper engagement between advertisers and consumers, Pattison Onestop is launching Engage, a mobile advertising platform that will allow consumers to interact directly with static and digital advertising using their mobile phones.
The new tech, built by UK-based Zappit, creates the opportunity for interactivity between digital and static ad boards and mobile phones via NFC, QR code or text.
"This is a way for advertisers…to extend the message beyond a single poster face or a 15-second digital ad," Ian Gadsby, VP digital technology at Pattison Onestop, told MiC.
Depth in consumer interaction is at the heart of an industry-wide search for advertising solutions in today's digital-heavy consumer space. Gadsby hopes to complement Pattison's extensive network of digital mall OOH offerings that can collectively reach 3.7 million people per day with this added opportunity for deeper engagement. It is currently available on digital mall units, static posters and video wall units in downtown Toronto.
"No longer are boards just nice to look at, they give the audience an opportunity to participate and feed their natural curiosity to learn more,"  says Andrew Perugini, assistant media planner at Jungle Media. "From a campaign standpoint, it gives advertisers the opportunity to measure success in a channel where concise data is hard to come by."
In terms of Engage's capabilities, an example would be an ad for a movie that would allow consumers to tap with their mobile phones and connect to specialized content – an extended movie trailer, interviews with actors, for example. Or it could give consumers access to special offer coupons with barcodes for redemption. While Pattison Onestop has offered this service in limited spaces already, it is now expanding its availability to all its digital mall and downtown Toronto spaces to offer advertisers an extra opportunity to engage with their customers. 
"With the adoption of things like Apple Pay and mobile options to acquire content (and things like tickets, boarding passes, etc.), it makes a lot of sense,"  says Veronica Holmes, president of digital at ZenithOptimedia, says of Engage. "But there's still the need of a 'pull' mentality to get user to take the phone to the ad. You still have to promote the capability of the ad, and I wonder if its going to be too much work for people to walk over to it."
The company is extending Engage to all its digital offerings, and to help lift it off the ground, the company is offering a range of customized opportunities to its clients. 
"It's a product we'd like to grow organically as the market would like to see it," says Gadsby. "We want to show off the abilities of this platform, that it's a very affordable product, it's an add-on to our other media offerings…These are the toppings on the sundae."
Image courtesy of Pattison Onestop