The National Post puts news on wheels
The national newspaper is touring the GTA with a modified food truck this summer.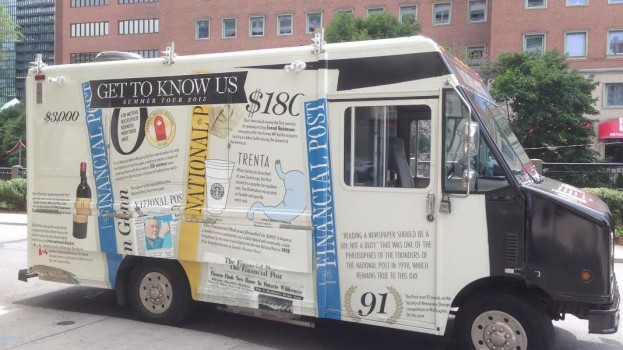 Toronto's newest food truck is less about the latest taco trends and more about coffee, columnists and news.
A new promotion from the National Post is seeing a headline-decorated modified food truck touring Toronto streets this summer, doling out a classic workday breakfast of coffee and a newspaper.
The "Get to Know Us" campaign, which launched yesterday, also aims to get up-close and personal with Toronto newsies, offering meet and greets with columnists like Christie Blatchford.
The idea for the truck came from a similar activation in Chicago, says Gerry Nott , SVP, central editorial services, National Post. The truck is designed to look like the front page of the paper, and features some of its crazier recent headlines and assignments. Creative and media for the execution was done in-house.
Over the next six weeks the truck will make more than 50 stops in the Toronto area, including Yonge and Sheppard, Yonge and Eglinton and Yorkville on Thursday and the St. Lawrence Market, Queens Quay and Woodbine Beach this Saturday. Consumers can follow the whereabouts of the truck online on @npsummertour.
"This was a relatively quiet time for newspapers to be marketing themselves loudly," he says. "We thought this was a bit of fun and would help to get us attention."
The food truck is one piece of the larger pie for the Post's campaign, which also includes flyer wraps with its Flyer Force arm in Ottawa, Calgary and Edmonton, and free sampling of the paper in Vancouver, Calgary, Ottawa and Montreal. Branded retail kiosks will also be set up at locations around the GTA.
The Postmedia-owned National Post's promotions are aimed at reaching new readers within its target of high-income Canadians.
Postmedia's circulation revenue dropped $3.2 million in its fiscal third quarter, with a loss of $19.1 million for print advertising and $0.9 million for digital advertising.