Social media chatter drives purchasing: report
Marketing intelligence firm Mintel has released a report that highlights the impact of social media interactions on users' purchases.
Canadian moms active on social media discover brands through their online social activity, according to Mintel.
The marketing intelligence company has released a social media trends report for 2015 idicating that 59% of that demo develops brand awareness through Twitter, LinkedIn and Facebook.
Parents and millennials are the biggest social media users when compared with older consumers as well as those without kids. According to the study, 92% of parents and 95% of those in the 18-to-34 age range are active on social media. The numbers are based on online surveys of 2004 internet users in the 18 and above age category. Of these 1,694 (85%) visit social media websites.
The top three types of websites frequented are shopping, news and social media sites.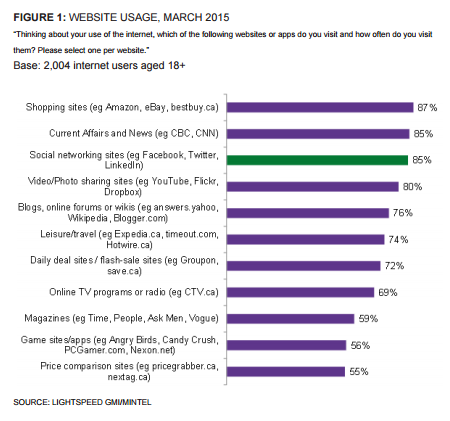 Overall, 41% of Canadians make multiple daily visits to social media sites, with that number going up to 75% for millennials. Millennial men are the most active social media users with 51% being active on two to three social media sites every day. Facebook topped the most frequented network for that demo with 65% frequenting it daily in addition to YouTube (51%) and Twitter (27%).
Facebook emerged as the overall winner within the social media category. Ninety-five per cent of social-media-using Canadians are active on Facebook with almost half that number (47%) on both Twitter and LinkedIn.
Having children in a home increases the likelihood of peoples' social media interaction: 47% of parents with children at home use multiple social media sites compared with 39% in homes without kids.
Interestingly, the report indicates that conversations on social media are not just chatter but lead to actual purchases. About 50% of Canadians have made purchase decisions based on social media conversations, while 30% have availed of special offers through their networks. Millennials account for 42% of those influenced by network interactions, and French-speaking Canadians account for 36% of those who use social media posts about a product or service to make their own purchases.
"Social media is used throughout the purchase process for consumers, as a resource for reviews, recommendations, price and product comparisons, and even acting as a platform to inform customers of new products or to trigger ideas for things to do spontaneously," said Carol Wong-Li, senior analyst, lifestyles and leisure at Mintel.
Not surprisingly young people are more open to engagement with brands on social media with 39% of millennials referring to their social media networks for advice before visiting a food haunt or purchasing a product, for example.
According to the survey results half of 1,694 internet users surveyed said that they responded to a company's post with 29% visiting the company's website, and 25% looking for more information using a search engine.
However, brands need to be creative with their interactions, says Wong-Li. "Retailers need to be aware that this is not a static relationship where they can passively post ads or reviews, particularly for millennials. They place value in a brand's effort in social media."
And how do Canadians connect to social media sites? Just under half use at least two devices with 68% using laptops and 61% using their smartphones. Consumers prefer to use laptops to engage with social media with 23% using smartphones over laptops, and 10% primarily using tablets. In a younger demo, though, the relationship is inversed with 44% of millennials in the 18 to 24 age group primarily using smartphones. 
Image courtesy of Shutterstock