SickKids unpauses the lives of patients
A new fundraising campaign shows what happened to the hospital's patients featured in last year's "Better Tomorrows."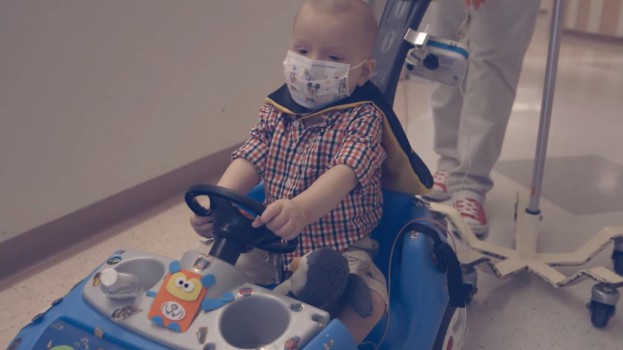 When a child needs treatment for a life-threatening illness, their life and the lives of their families are put on pause. The SickKids Foundation is showing what it can do to help families get back to normal by turning to social for this year's fundraising campaign.
Launched today, SickKids is continuing the stories of six patients Canadians got to know in last year's "Better Tomorrows" campaign. New online videos from SickKids' creative AOR Cossette feature the stories of patients whose lives were put "on pause" when they needed to seek treatment. Primarily driven through social, posts on Facebook and Twitter will show images from last year's videos and drive to a video hub where footage from last year will remind viewers about these kids' stories.
However, the video will pause before viewers can see what has happened to the patients in the year since. While a donation will allow individuals to see the rest, the video will only be "unpaused" for the general population and shared more broadly once a goal linked to each patient's personal story has been met. For example, Kael spent 440 days in the hospital, so the foundation is looking for 440 different donors before the rest of his story can be told.
A teaser video will kick off the campaign on social media today. Cairns Oneil led media planning for the new campaign.
Handled by then-AOR J. Walter Thompson, "Better Tomorrows" featured 45 different pieces of creative that ran on TV for 45 days, resulting in the largest amount ever donated to SickKids in a single month. While "Better Tomorrows" was heavily focused on TV, "Life on Pause" is focused more on social media. Lori Davison, VP of brand strategy and communications at SickKids, says that is, in part, reflective of the response the organization saw on social media to the stories it was telling last year.
"There was such an extensive body of work developed last year, and a lot of that video content was only out there for a day," she says. "Any update we posted about one of the kids on social media got a tremendous reaction from the community. It clued us in to the fact that people were interested in knowing more and there was still potential in all the rich material we had shot."
For Pediatric Cancer Awareness Month in September, SickKids and Cossette launched a pair of videos playing on the idea that the survival rate for kids with cancer has now reached 80% to show that helping the remaining 20% could soon be within reach with the public's support. One of those videos also featured Grace, who had been a subject in "Better Tomorrows," and who lost her fight against cancer to show that, despite the advances, support was still needed. Davison says the stories revealed during "Life on Pause" will be focused more on the kids who were able to return to their normal lives thanks to SickKids and its donors.
Davison says focusing more on social is also part of a larger trend of online donations, which allows SickKids to give people the chance to action immediately after putting out an ask for support.
"Our challenge is less about marketing and more about the overall state of giving," she says. "The pie is shrinking, so for us the challenge is to always try to grow our giving within a shrinking environment. Our hope is to collect some new viewers to the campaign this year by having a different approach, but having said that, our core target does participate in Facebook quite a bit already, so this will speak to them as well."
A two-minute TV spot, called "Just Another Day" is also launching Monday and is set to run during top-rated programming through December, such as the 49th Country Music Awards, Figure Skating Championships, airings of It's a Wonderful Life and other "appointment TV" shows on CTV. The campaign also includes a brand integration with the script of CBC's Murdoch Mysteries. The broadcaster will announce more details of the partnership this week, but Davison says, as the hospital was already a Toronto institution at the turn of the century when the series is set, the show will connect to SickKids' 140th anniversary.