ICYMI: Branded emojis, AAM signs with TAG
In case you missed it: Twitter Canada launched its first branded emojis, Magazines Canada is sending readers on romantic getaways and AAM has partnered with TAG.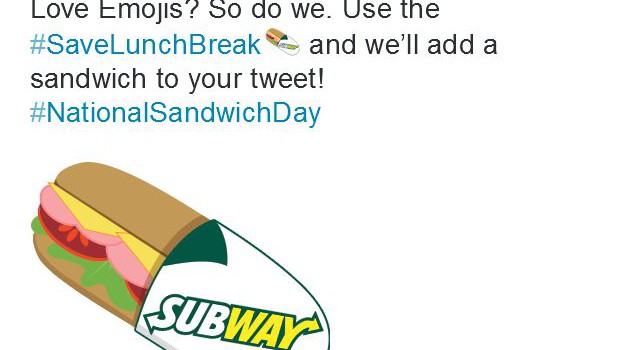 Magazines Canada's best-reading-moment contest
To expand the reach of its "Share Your Love of Magazines" campaign, Magazines Canada has announced a best-reading-moment competition that will see six couples win all-expenses paid two-night getaway packages to six Canadian destinations plus a gift card from Roots Canada, which is sponsoring the competition with six Canadian Tourism Bureaus. The locations are Kelowna, Edmonton, Regina, Ottawa, Charlottetown and Halifax. To win entrants have to capture their best magazine moment in 75 words and submit online.
Eppy Awards honour Quebec publications

The 2015 Eppy Awards, which celebrate the best media-affiliated websites, have honoured the Journal de Montréal and Journal de Québec websites and J5 mobile app. Both publications' websites won for the Best Redesign/Relaunch category for sites with more than one million unique monthly visitors. For apps reaching under one million unique monthly visitors, J5 nabbed the Best Mobile App award. 
Twitter's inaugural Canadian emoji

What's more Canadian than Tim Hortons? Starbucks apparently. The first promoted brand Twitter emoji in Canada has come from the U.S. chain and is associated with its #RedCups emoji. Twitter users can use the hashtag to see the emoji show up against their tweets. Subway also rolled out a branded emoji this week, with a sub being added to tweets that include #SaveLunchBreak.

AAM gets TAG authorization
The Alliance for Audited Media (AAM) has been named as an independent validator in the Trustworthy Accountability Group's (TAG) program to fight internet piracy.
In that capacity the company will audit and certify advertising technology companies that meet TAG's standards. The goal of the partnership is to help advertisers and their partners to avoid running ads on sites that might contain pirated content, or counterfeit products. The partnership is currently live in the U.S.