Canadian wins at the Pearl Awards
Globe Edge, Rogers Media and Spafax win honours for their work at the New York-based content marketing event.
The industry event that's all about content marketing just wrapped up and Canadians have brought home a number of awards.
The Pearl Awards, which are hosted by New York-based The Content Council, honour the industry's best work across print, digital and multi-channel platforms and hand out Gold, Silver and Bronze awards in 37 categories.
Canadian awardees at this year's event include The Globe and Mail's custom content studio, Globe Edge, Rogers Media and Spafax.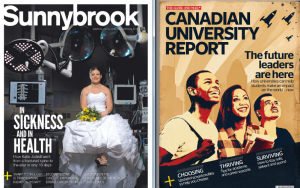 Globe Edge won in all the categories it was nominated for, edging out its competition to take home the Gold in the Colleges and Universities category for its annual publication, the Canadian University Report. It  also won two Silver awards, the first in the Health/Pharma category for Sunnybrook magazine, a publication that it publishes several times a year for Sunnybrook Hospital and the second in The Best Use of Native Advertising category for Capitalize, a rolling native program that is packaged around expanding brand awareness of the Globe's parent company, Thomson Reuters.
Sean Stanleigh, managing editor of Globe Edge, says his studio's success is a largely a result of putting out content that has the look, feel and quality of a journalistic, not a trade, product.
Stanleigh says his studio's placement within the newsroom makes a difference. "We are a team of journalists; we have a data analyst and a digital strategist, both of whom have journalistic backgrounds." Living within the newsroom and being part of the daily news cycle and the energy around that helps his team stand out against the competition, he says.
The Globe's Sunnybrook contract is its oldest to date. The content studio has been producing the magazine for the last five years ever since it first entered the branded content market.
With Thomson Reuters, which is a global firm, the studio is developing a year-long series that focuses on data and analysis of data around the global business supply chain so readers can better understand the factors (weather, conflict, news) affecting the movement – and pricing – of good and commodities.
Meanwhile, Rogers Media won the Gold in the Technology & Telecommunications category for its Rogers Ignite content marketing program for Rogers Communications. It also won the Bronze in the Best Use of Native Advertising category for its Walmart Canada publication, Walmart Live Better Pet Guide.
The Gold in the Travel category went to Spafax for its work on Enroute, the in-flight magazine for Air Canada.