Instant Articles lands on Canadian Facebook pages
The social media network has launched its publisher-inspired product here and also made it available on Android devices globally.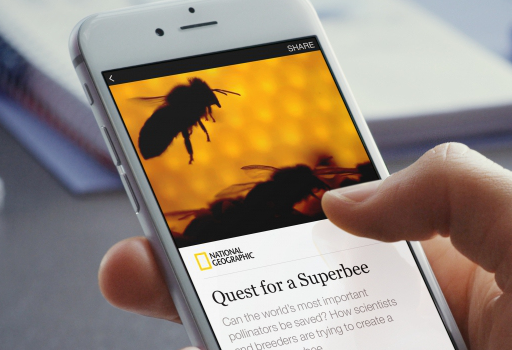 French- and English-language publishers in Canada will soon be able to plug into Facebook's user data info and reach news junkies within their news feed on its platform.
The social media platform has announced the launch of the service with a selective early rollout with Le Journal de Montréal and Le Journal de Québec. Before the year ends, Rogers Media publications Maclean's, Chatelaine and Sportsnet will also be sharing content specifically purposed for Facebook. Instant Articles will now also be available on Android devices globally. 
"Instant Articles has been designed with extensive feedback from publishers, and we're excited to bring this collaboration to our publishing partners in Canada to help them distribute fast, interactive articles to their readers in the Facebook app," Andy Mitchell, director of global media partnerships at Facebook, said in a statement.
Facebook launched Instant Articles in the U.S. in May this year, following a six-month in-house research period during which it tested out the product with a handful of U.S. publishers (New York Times, BuzzFeed, National Geographic, NBC and The Atlantic) with an aim to diversify advertising opportunities and respond to readers' online consumption behaviour. Because articles viewed on Facebook from publishers' sites took over eight seconds on average to load, the tech co offered publishers a more "instant" way to reach readers/viewers. Articles published on Facebook through Instant Articles open up immediately, giving readers a more native and interactive experience and allowing them to share those articles seamlessly. 
The following month, signalling the importance of partnering quality content with quality platforms, Apple announced the launch of its revamped Apple News app, which allows publishers to directly publish articles within it and – for the time being – earn all the revenue from advertising on those articles.
The Facebook product has been optimized for high-res photography and illustrative and interactive content like maps and audio captions. Viewers have the ability to respond to sections of an article by posting comments within the story. (Interestingly, the Toronto Star announced that, effective today, it is shutting down its online comments section and will instead curate the most "thoughtful, thoughtful and provocative comments" on its social media platforms and on theStar.com.)
The product has been built using RSS and HTML internet languages and allows publishers plug their content directly into it and use it to sell ads within those articles. Like Apple News, publishers can keep whatever revenue they earn from advertising using Instant Articles. Unsold inventory can also be monetized through Facebook's Audience Network. Using the network's analytics tools web traffic and engagement can also be monitored.
Facebook has already announced the list of additional publishers to sign on to Instant Articles in 2016. They include The Canadian Press, Diply, Global News, The Globe and Mail, Postmedia Network, The Toronto Star and CKNW.