Spotted! McDonald's billboard Snow Report
The QSR is bringing attention to its hot beverages through a real-time snowfall data board on Highway 99, targeting skiers as they approach Whistler.
Skiers heading to Whistler to take in some of the season's best snow can now check in with "The Snow Report" as they speed along on Highway 99 towards Blackcomb resort.
That doesn't involve tuning in to a radio station. Instead, travellers on the lone connecting highway to ski-dom in British Columbia will have to keep their eyes peeled for a McDonald's billboard. The board synchronizes real-time snowfall data with images from its beverage cart.
The snowfall data gives the brand an opportunity to highlight three of McCafé's specialty espresso-based hot drinks: its cafe latte, cappuccino and hot chocolate.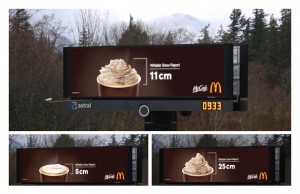 On a day with low snowfall, travellers will not only get advance insight into how many inches of snow are on ground at their destination, they'll also see an image of McCafé's least frothy beverage, the freshly steamed latte with a lower peak. A cup of cappuccino with some good-looking froth will pair with data on a mid-snowfall day. And on a day when heavy snowfall has deposited a thick layer of snow atop Blackcomb, the board will showcase its creamiest specialty, the deluxe hot chocolate with a generous topping of whipped cream. 
The creative execution was engineered by Cossette's Vancouver office, with a partnership with Astral Media. 
The location for the billboard was strategic, Gavin Stafford, senior marketing manager, Western Canada at McDonald's tells MiC.  The board is located in Squamish, halfway between Vancouver and Whistler, and on the only highway connecting the western city to the ski resorts. Moreover, McDonald's has two outlets in close proximity, one in Squamish itself and the other in Whistler. With the hot beverages front and centre in consumers mind, the QSR hopes to drive traffic into both locations as skiers and snowboarders look to warm up.
The execution, which Stafford says is aimed at building brand awareness in a fun way, will run through the month of February. "It will keep our products top of mind in a very relevant time of year," he says.