2016 AToMiC Awards winners revealed
Check out the disruptors, creators and shifters whose ideas took off.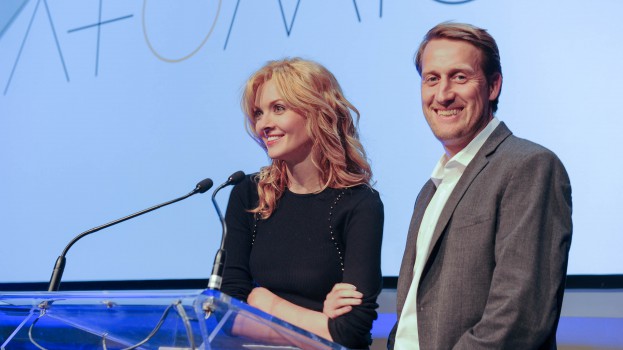 Disruption is the order of the day, rewarded by consumers seeking convenience and options. It was also recognized at the 2016 AToMiC Awards, which were handed out last night in Toronto at the MaRs Discovery District, honouring campaigns that challenge expectations, habits and conventions.
The show was hosted by Ryerson University professor, actress and transmedia creator Ramona Pringle and Cundari's chief creative officer Sean Barlow. Because if it doesn't go viral, then it didn't happen, the hosts pulled out every digital trick in the book to get people tweeting, snapping and sharing, using puppies, a bunny and unboxing in an attempt to get #AToMiC16 trending.
As for the awards themselves, Uber took home the Grand Prix at the Atomic Awards for its "Uber Safe" campaign by Rethink, creating a breathalyzer kiosk that offered rides and prevented drunk driving. The ride-sharing app was recognized across a number of categories, winning Gold in the Tech Breakthrough, AToMiC Idea, and Cause and Action categories.
Other Gold winners, including The Foundation Fighting Blindness, disrupted our media consumption, while Raising the Roof and Nike rattled traditional outdoor advertising.
The Liberal Party of Canada, Converse, the SickKids Foundation and Lexus Canada were among the other Gold winners at the award show in Toronto Thursday night.
Strategy developed the AToMiC Awards, in consultation with a pan-industry advisory board, to identify groundbreaking ideas and programs across Canada's mediascape. The winners, chosen by a diverse jury of digital, TV, agency and marketing execs, offer innovative examples of how to engage audiences on multiple screens, in various environments and with novel ideas.
The following articles present a highlight reel of bold ideas that went beyond conventional approaches. So click away and immerse yourself in some of the best work that got audiences thinking – and acting – differently.
AToMiC Awards: Shifting perceptions
AToMiC Awards: Know thy audience
AToMiC Awards: Designing a Guitar book
AToMiC Awards: Disrupted expectations
AToMiC Awards: Crossing platforms
AToMiC Awards: Cinematic ads with an emotional hook
AToMiC Awards: Removing the friction
AToMiC Awards: Getting personal on social
AToMiC Winners
AToMiC GRAND PRIX
Uber – Uber Safe

AToMiC Collaboration
GOLD: The Foundation Fighting Blindness – Experience Blindness
SILVER: Molson Canadian – Hockey Heaven

Cause & Action
GOLD: Alzheimer Society of Toronto – Music for Memory Project
GOLD: Uber – Uber Hunger
SILVER: SickKids Foundation – Life Unpaused
BRONZE: Ontario Women's Directorate – #WhoWillYouHelp
BRONZE: Ronald McDonald House Charities of Canada – #RMHCthankyou

Tech Breakthrough
GOLD: Uber – Uber Safe
BRONZE: IKEA – #ShareTheBathroom
BRONZE: Molson Canadian – Global Beer Fridge

AToMiC ROI
GOLD: The Canadian Centre for Gender & Sexual Diversity – The Gay Sweater
SILVER: The Canadian Safe School Network – Kids Read Mean Tweets

Best Brand Integration
SILVER: SickKids Foundation – SickKids / CBC Murdoch Mysteries
SILVER: Canada Post – Venture One – Canada Post / Dragons' Den

Best Niche Targeting
GOLD: Lexus Canada – Lexus LinkedIn
SILVER: Mount Pleasant Group – Quitbit
BRONZE: Walmart Canada – Pure Balance – Pooch Truck

AToMiC Design
GOLD: Nestle Canada – The SMARTIES Shout Out
SILVER: The Warehouse Studio – Guitar Book

AToMiC Shift
GOLD: The Liberal Party of Canada – 2015 Election Campaign
GOLD: Canon Canada – #TheCreatorClass
SILVER: Mount Pleasant Group – Quitbit

Virtual Reality
GOLD: Converse – Chuck Taylors – Made By You

Best Brand Content
GOLD: Cineplex – Lily & the Snowman
GOLD: Molson Canadian – Hockey Heaven

Best Experiential Engagement
GOLD: Raising the Roof – Coming Soon
SILVER: Wrigley – Skittles Holiday Pawn Shop
BRONZE: Molson Canadian – Hockey Heaven
BRONZE: The Canadian Centre for Gender & Sexual Diversity – The Gay Sweater

Best Print / Out-of-home Engagement
GOLD: Nike – #BetterForIt
SILVER: Leon's – Leon's Moving Day

Best Digital Engagement
GOLD: SickKids Foundation – Life Unpaused
SILVER: IKEA – #ShareTheBathroom
BRONZE: Uber – Uber Safe

Best Transmedia
SILVER: Epitome Pictures / YTV / TeenNick – Open Heart Interactive
BRONZE: CBC – Murdoch Mysteries: The Infernal Device

Best Broadcast Engagement
BRONZE: Universal Studios – Furious 7 Shared Intensity

Online Video
GOLD: Cineplex – Lily & the Snowman
SILVER: Raising the Roof – Coming Soon
BRONZE: The Canadian Breast Cancer Foundation – CIBC Run for the Cure – In this together

AToMiC Engagement
GOLD: Wrigley – Skittles Holiday Pawn Shop
BRONZE: Ontario Association of Interval & Transition Houses / Yellow Brick House – The Window Project

AToMiC Idea
GOLD: Wrigley – Skittles Holiday Pawn Shop
GOLD: Uber – Uber Safe
SILVER: The Canadian Centre for Gender & Sexual Diversity – The Gay Sweater
Image: AToMiC 16 hosts Ramona Pringle and Sean Barlow