Spotted! A dark, dank Suicide Squad facility
Warner Bros. pushes publicity for its upcoming supervillain film by letting Torontonians into the penitentiary.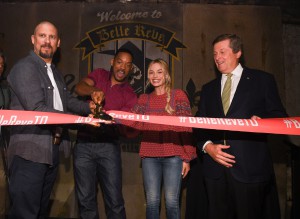 Toronto's mayor  John Tory may be an unlikely candidate for admission to a penitentiary (we hope). Yet this week he not only cut the ribbon to one, he was also part of the ensemble – along with actors Will Smith, Margot Robbie, and director David Ayer – inviting regular Torontonians to join him inside one; specifically, the Belle Reve Penitentiary.
The Warner Bros. activation was part of the entertainment co's push ahead of the theatrical premiere of Suicide Squad, the latest DC Comics super hero movie, which upends the typical narrative with a cast of characters who are part of a squad of supervillains (Joker, Deadshot, Harley Quinn) on a supervised mission to save the world.
The company opened the gates to the Belle Reve Penetentiary in Toronto's Distillery District, giving fans of the genre a way to experience the film set and its props.
The activation is being sponsored by Audi Canada, IMAX, Cineplex, Battle Sports and Edge 102FM. Creative for the execution was developed by Jonny Pottins, with Your Brand on digital and social and media for radio buy on Edge 102FM being handled by OMD.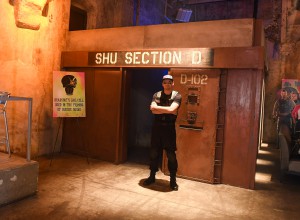 All day yesterday and today, fans were able to enter the faux prison and visit Deadshot's jail cell, the prison's mural wall, be up close and personal with Harley Quinn's bat and see other props from the set.
The execution also includes the Harley Quinn Smash Cell, developed in collaboration with Battle Sports. Fans can put on s a safety suit, pick up Harley Quinn's bat and vent their anger by smashing a collection of glass bottles and vases, as Harley Quinn no doubt does in the film.
Fans can also buy advance tickets to see the film in IMAX and can win prizes by putting up images of their time at the Belle Reve on social using #BelleReveTO.