Shopify shifts its gaze on Snapchatters
Looking to differentiate its brand, the e-commerce co turns to the social platform's storytelling tool to capture attention (and a team member).
Shopify is looking to push the envelope with its media strategy starting at the source: hiring. The Toronto-based startup sensation is turning to Snapchat to develop its next generation of talent, in a bid to both bolster its acumen in the field and build its brand currency in the space.

Dan Fricker, social media lead at B2B service provider Shopify, told MiC that the objective of the hunt was to think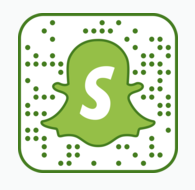 out of the box about hiring strategies in keeping with the company's "Draw the Owl" hiring campaign (see video below) that it birthed in 2013. This time around the goal is to also to expand the company's reach on Snapchat.
"Snapchat has been a pretty key pillar in our approach to social," said Fricker. "We wanted to look beyond the conventional resume and get a sense of someone's social skills in action; their ability to tell a story from beginning to middle to end."
The social platform is a like-minded partner for Shopify, which is looking to share anecdotes about the success of its entrepreneurial customer base, Fricker said. The stories of current or aspiring small businesses have a common theme with the stories that the company plans to develop on Snapchat: ambition.
"One of the interesting challenges and opportunities with a network like Snapchat is, it has forced marketers to rethink their approach to storytelling."
Snapchat currently has close to 150 million daily users, and a monthly base of about 300 million users, about the same size as Twitter. The company, which was once seen as a platform primarily for teens, has expanded to a wider demo (37% of its audience is in the 18-to-24 demo while 26% are 25 to 34) and now has six billion daily video views, as well as engagement rates of 25 to 30 minutes.
Fricker says the invitation to applicants is also an exercise in brand-building. "We are always looking for new and innovative ways to differentiate Shopify from other brands, and this was certainly a tactic in the overall approach."
The team has not yet decided whether it will share the submissions on Snapchat. That, in part, depends on the quality of the submissions the company receives.
Snapchat opened up a Canadian outpost earlier this year, hiring a small sales team to draw brands into a new social conversation.