Rogers Radio taps Shazam for a new kind of countdown
The media co has paired with the music app for sponsorable and localized music shows based on the songs listeners are searching for most.
Readers of a certain age might remember waiting by the radio to tape the countdown. While the cassette decks are long gone, a new partnership between Rogers Radio and Shazam aims to keep that personal connection with the top hits going.
The media co has paired with the music app to launch The Shazam @ 7 Countdown, a daily show that will air at 7 p.m. local time on KiSS 92.5 in Toronto, 91.7 The Bounce in Edmonton and KiSS Radio in Vancouver.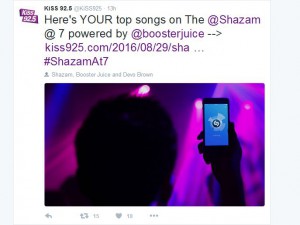 The deal was arranged through Tapped Mobile, which represents Shazam in Canada. Each of the stations have a primary demographic of adults 18 to 44, and skew female.
The countdown for each market will be differentiated and compiled using recently Shazam'd tracks from each city.
Julie Adam, SVP of radio, Rogers Media, said that the deal came out of a talk with Tapped Mobile on what the media co could do with Shazam. The partners landed on doing a national partnership that could be customized for each market.
The Shazam countdowns are the latest in a series of launches aimed at connecting radio with new platforms. Last September Rogers Radio launched YouTube Hits on KiSS 92.5, a show that highlights top hits and emerging artists from the site.
Booster Juice has signed on as the first sponsor for the Shazam countdowns, integrating on Rogers Radio as well as online. Its sponsorship will include in-show brand integration, on-air mentions and "Shazamable" radio spots.
Additional sponsorship opportunities on the new shows include category-specific buys, being the first brand out of commercial breaks and buying fixed weekday or weekend spots during the countdown.
Shazam currently has 3.6 million active monthly uniques in Canada.