Captivate looks to embrace digital, real estate with new hires
The OOH agency is also looking at simplifying its Canadian sales by creating a new leadership position overseeing sales and real estate.
OOH agency Captivate, known primarily for its network of lobby and elevator advertisements in office buildings across North America, is looking to build on its current digital offerings, and it's done so with the creation of a new VP of digital sales position.
Neil Shapiro, who previously worked in senior sales roles for tech and media companies including Ubermedia, Shazam and The Huffington Post, will oversee digital sales as well as programmatic across North America.

Captivate CEO Marc Kidd told MiC the new role is a reflection of Captivate's current focus — while digital is nothing new for the company, he said, it is playing a big enough role that the sales team will offer more digital-specific solutions and insights.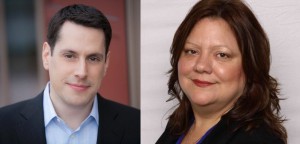 "More companies are looking to us for digital solutions, as well as programmatic," said Kidd. Specifically, he identified programmatic as a growth area for the company, although he did not provide any insight into what kind of programmatic solutions the company will offer.
Kidd said Captivate's targeted focus will remain on the "working professional." The company currently delivers 12,000 displays to more than 1,800 buildings in North America.
The company has also upped Barb Huggett, who has been with the company since 2010, to SVP, advertising sales and GM of Canada. The new role, created specifically for Huggett, will combine ad sales with real estate sales, a first for the company.
"We've always had Canadian real estate reporting to a position in the U.S.," said Kidd. "This new structure makes more business sense."
Prior to this most recent promotion, Huggett has held progressively senior roles in the sales side of Captivate, including director of business development and VP of ad sales for Canada. Huggett's resume includes past work with Y&R, TBWA and McCannCanada.
This past year has seen nearly 40 new hires for Captivate across the advertising, real estate, marketing, finance, engineering and operations teams. Kidd said the new hires are a mix of newly created roles and new hires to pre-existing positions.